A few months ago when I was flicking through my News Feed, I saw this Instagram picture pop up. I stared for a moment and thought to myself: hold the phone. The boy bakes?
Figure 1: Richy's "Despicable Me" cupcakes
So many questions formed in my mind at the same time.
Who is this guy? Where did he learn his baking skills? How on earth did he do the cute little spectacles? Why is he better at baking than me?
I was pretty jealous. Once, when I was in high school, I tried making cupcakes with colourful designs on them for my friends. My mum told me my cupcakes looked like a pumpkin had thrown up on them. Safe to say I've stuck to baking boring cupcakes ever since.
Figure 2: Richy's lemoncurd-filled rainbow cupcakes (Photo: Edward Teh for The White Label Series)
I became curious and had a good stalk of Richy's Instagram (@richylicious). I started scrolling down and saw a pretty impressive baking repertoire including profiteroles with Frangelico cream, salted caramel brownies, three-dimensional rainbow cupcakes, coconut chiffon cake... and when I got to the two-tiered chocolate cake embellished with bright red macaroons, I became
really
interested. I contacted Richy and asked him to bake something for me.
Figure 3: Raspberry & white chocolate macaroons
So late afternoon on a Friday, I drove over to Richy's and we met for the first time. In the first three minutes or so of our get-to-know-you conversation, we discovered that we actually went to the same primary school (Leeming Primary, what up) but were one year apart, we go to the same church but on different days, and my best friend, Lien, is the sister of Inge, who Richy has been friends with since the 90's. Good one, Perth.
Figure 4:
Master at work
So what's there to know about Richy? He's a physiotherapist, a clinical pilates instructor (bet you weren't expecting that one) and also does hydrotherapy sessions. Richy really loves what he does, but to keep the balance, he spends one day per week doing something completely non work-related. Over the past year, that thing has been baking. When I asked Richy where he had learned to bake like he does, he answered that he's self-taught. I had honestly expected him to say that he'd at least done a cooking class or two. But his creations are simply the result of lots of practice, many failed attempts and a willingness to learn.
Richy says the best thing about baking is other peoples reactions when they eat what he's made. "I don't actually end up eating much of what I bake," he said. "I usually give most of it away, because that's where the enjoyment is for me. It's what other people say and do once they eat what I've made for them."
Figure 5: Hi-Hat Cupcakes, pre-chocolatisation


And just in case you were wondering, yes, they were flippin' delicious and I ate three in one day. The cupcakes were so perfectly done, so incredibly light, like eating fairy floss in cake form topped with barely-there clouds of sugar, enrobed in milk chocolate. Did I mention that this was Richy's first time making these?
Hi-Hat Cupcakes
Makes 12-16
Recipe by Richy Gonsalves, adapted from
recipe
in
Cupcakes
by Elinor Klivans
Ingredients
Cupcakes
85 grams unsweetened chocolate, chopped
1 cup plain flour
1/2 teaspoon baking powder
1/2 teaspoon baking soda
1/4 teaspoon salt
115 grams unsalted butter, softened to room temperature
1 1/4 cups sugar
2 large eggs
1 teaspoon vanilla extract
1/2 cup sour cream
1/2 cup water
Marshmallow frosting
1 3/4 cups sugar
1/4 cup water
3 large egg whites
1/4 teaspoon cream of tartar
1 teaspoon vanilla extract
1/2 teaspoon almond extract
Chocolate dipping
2 cups chopped semisweet chocolate (approx. 340 grams)
3 tablespoons canola or vegetable oil
Figure 7: Game on
Method
Step 1: Preheat oven to 180
°
C with rack in centre. Line cupcake tin with liners.
Step 2: To prepare the cupcake mixture, place chocolate in a medium heatproof bowl and set it over a medium saucepan of barely simmering water. Stir chocolate until melted and smooth. Remove bowl from heat, and set aside to cool slightly. Meanwhile, whisk together flour, baking powder, baking soda, and salt in a medium bowl and set aside.
Figure 8: Bright egg yolks
Step 3: In the bowl of an electric mixer fitted with the paddle attachment (or using a handheld electric mixture), cream butter and sugar on medium speed, scraping sides of bowl as needed, until light and fluffy. On low speed, mix in melted chocolate. Increase speed to medium, and add eggs, one at a time, mixing well after each addition. Add vanilla, and beat until mixture is creamy and colour has lightened slightly (approx. 1 minute). Mix in sour cream. On low speed, add half of reserved flour mixture, beating until just combined. Mix in 1/2 cup water. Add remaining flour mixture, and mix until just combined. Be careful not to overbeat.
Figure 9: Spot the evil mud monster face
Step 4: Fill each liner with cupcake batter until 2/3 full. Bake in oven for 20 minutes until tops are firm and a skewer inserted into the centre comes out clean. Remove pan from oven and transfer to a wire rack to cool in pan for 10 minutes. Then remove cupcakes from pan and allow to cool completely.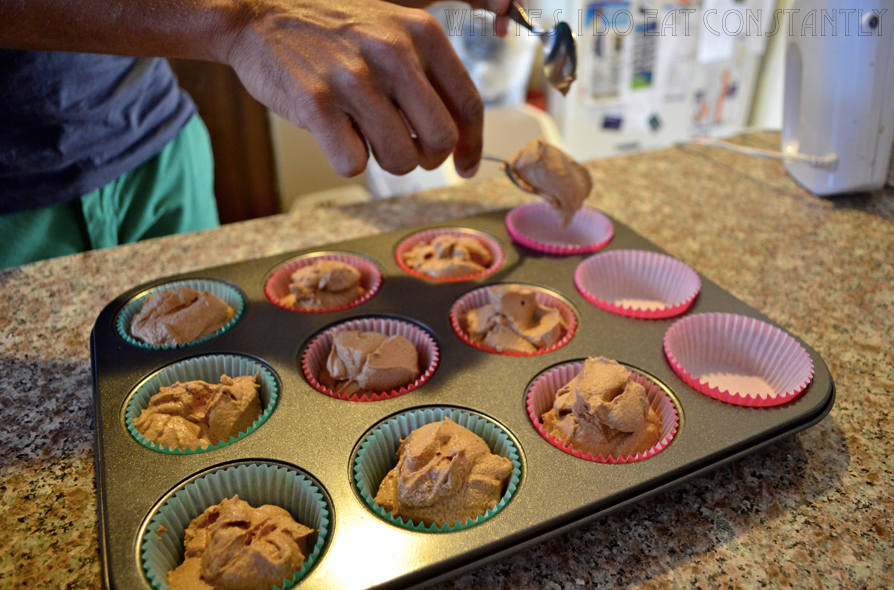 Figure 10: And drop
Figure 11: Cupcake heaven
Figure 12: Voilà
Step 4: To prepare the marshmallow frosting, combine sugar, 1/4 cup water, egg whites, and cream of tartar in a large heatproof bowl. Using a handheld electric mixer, beat on high speed until foamy (about 1 minute). Set bowl over a pan of barely simmering water. Beat on high speed until frosting forms stiff peaks (about 12 minutes). The frosting should register around 160 degrees on a candy thermometer (however, do not worry if you don't have a candy thermometer! Simply beat on high speed until stiff peaks form). Remove from heat, stir in vanilla and almond extracts, and beat for 2 minutes more until frosting thickens.
Figure 13: Precise
Figure 14: It's a love heart!
Step 7: Transfer marshmallow frosting to a large piping bag fitted with a 1/2 inch piping nozzle. Leaving a slight outer border on each cupcake, pipe a spiral of frosting into a high cone shape. Transfer cupcakes to a plate or chopping board to refrigerate whilst preparing the chocolate dipping coat. For best results, refrigerate for at least 30 minutes.
Figure 15: Focus
Figure : Adriano who?
Step 7: To prepare the chocolate coating combine chocolate and oil in a medium heat proof bowl set over a medium saucepan of barely simmering water. Stir until melted and smooth. Transfer to a small bowl and let cool about 15 minutes. You will need a small bowl with just enough space to allow dipping the cupcake into the chocolate. Alternatively you can use a plastic party cup to dip the cupcakes into the chocolate coating.
Figure : In
Figure : Out
Step 8: Holding each cupcake by its bottom, dip cupcake in the chocolate to coat frosting and allow any excess to drip off. Transfer to a baking sheet and allow to set. Use a toothpick dipped in the chocolate coating to paint more coating around edge of cupcake and any exposed frosting (none of the frosting should show). Let chocolate coating cool by standing at room temperature for at least 15 minutes. Refrigerate for a further 30 minutes to let coating set completely.
Figure : Cupcake twins
Step 9: Cupcakes are now ready to serve. For best results, cover and refrigerate for 2 hours more. Serve cold. Cupcakes can be refrigerated for up to 3 days.
Figure :
Hungry?
Richy is someone I would call a Real Foodie. We idolise celebrity chefs like Jamie Oliver and Adriano Zumbo who have made it big in the food industry, but this series is about the foodies I come across in every day life who inspire me. Richy inspires me because he puts so much time and effort into doing something that brings him and those around him so much pleasure.

Being happy is such a simple thing - find something you love doing, then go do it. Yet so many of us don't make time in our busy schedules for this. Richy, even with his absolutely packed schedule of running between three different workplaces 6 days a week, still makes time to be happy, and to share that happiness with others.
Figure: Richy with his latest creations