Figure 1: Awesome work by the graphic designers!
"I dream of a world where fruit is cheaper than Froot Loops", proclaims Josh Viertel, President of Slow Food USA. "Where there are more school gardens than McDonalds has franchises." And when you put it like that, it does sound a bit ridiculous. How can it be that ultra-sugary cereal which only vaguely resembles fruit, has become cheaper to buy than a bag of fresh apples?
This is just one example of the modern-day irony that we have found ourselves in: a world where fast food, industrial food production and globalization are robbing our society of good, simple food.
As life gets faster and time becomes scarcer, we are becoming more and more inclined to look for food that is quick and cheap. Unfortunately, this choice inevitably leads us to eat and buy food that has been transported over several continents, is packed with additives, produced unethically, and probably contains as many nutrients and vitamins as a rubber duck. Not to mention it is destroying our planet. And unfortunately, for the most part, this is the way our food production system has developed in order to feed our growing population, and its need for speed.
Figure 2: Carlo Petrini at the UN Permanent Forum on Indigenous Issues in New York, May 2013
Figure 3: Slow food logo
It is to this epidemic of fast food that the "Slow Food" movement responds. Started in 1986 by Carlo Petrini of Italy, Slow Food now has more than 100,000 members in over 150 countries all over the world. Their mission: to lead everyone back into the direction of "good, clean and fair" food, and to highlight the inextricable link between food and the environment that has been overlooked for too long.
Viertel phrases the situation like so: "Every problem… whether it's environmental degradation, or social injustice, a problem of the global economy, or a problem of education, has at its core issues linked to food and farming. And if we're going to address those problems in ways that are meaningful, we have to transform the way we grow and share food together."
The Slow Food organization is split up into "conviviums", regions within each country that are responsible for their own food scene. Their job is to promote the local food industry through supporting fresh food markets, local farmers and products that are unique to the region. Larger culinary events are also held throughout the year, such as Salon Del Gusto, the world's biggest food and wine fair held in Turin, SlowFish, a fish festival held in Genoa and Terra Madre, the annual summit of the international food community which brings together chefs, farmers and artisans from all four corners of the globe.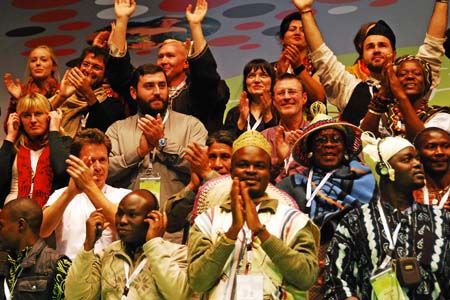 Figure 4: Members of the Terra Madre community in their respective traditional dress
Slow Food is also very active politically, lobbying against forms of food production that are destructive and unethical, for example: use of pesticides, genetically modified crops and "Land Grabbing" (when multinational entities exploit large tracts of land purchased from local communities). They also call upon governments to include organic farming concerns within agricultural policy, so that wholesome methods of farming are fostered through legislation. One major goal is to preserve foods that have become "endangered", which I didn't even think was actually possible.
Carlo Petrini explains: "In the past hundred years we have lost eighty per cent of the world's biodiversity. So we had this wonderful heritage built up over thousands of years and in 100 years we have destroyed it. Every day we lose five to six species of fruit and vegetables. In Italy, where I come from, we have lost three breeds of milking cow, four breeds of sheep, and two breeds of donkey. The only breed of donkey which keeps surviving is the one walking on two legs – that one never goes on to extinction."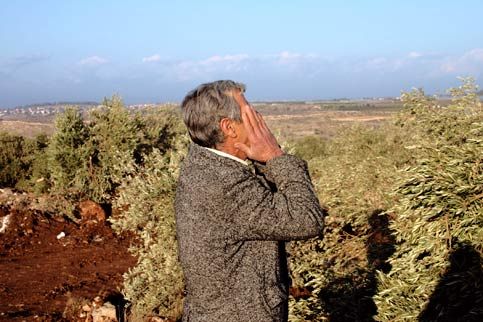 Figure 5: Palestinian farmer following the destruction of his olive farm
Slow Food is also fighting for Mother Nature with what is probably the most effective weapon: education. Campaigns are run throughout the year to raise awareness about the consequences of commercial agribusiness and fast food. Even more hands-on are projects such as "A Thousand Gardens in Africa", which has resulted in 782 school gardens being completed in Africa since 2010. Slow food has even opened a University in Northern Italy, solely devoted to the study of Gastronomic Sciences. Alumni will graduate equipped with knowledge on how to develop a sustainable future for food in their area of expertise, and will go on to become the new leaders of Eco-gastronomy.
And to all this, you, a Curtin Uni student may say: So what? Got nothing to do with me. It all seems very far away, based in Europe, unconnected to us Perthians. But Slow Food Perth is also alive and kicking right here in our city. Current projects include a WA Producers and Food Directory, a collection of traditional recipes from West Australians that reflect our rich multicultural heritage called "Slow food at the edge of the world", and ongoing support of Perth farmer's markets. In the metropolitan area, there are farmers markets in Mount Claremont and Subiaco every Saturday from 8am – 12 noon. So why not check one out this weekend, instead of heading to Woolies and lining up for 20 minutes? You will find some amazing local produce, a relaxed atmosphere and a small community of the Slow Food world that can only get bigger.
Figure 6: Subiaco Farmer's Market (Photo: libertineeats.com)
One thing we can take away from observing these enlightened foodies is this: we need to get back to basics. We need to stop loading up our food with additives and preservatives. We need to cut out the middle man and start buying straight from the farmers, or as close to local agriculture as possible. We need to stop importing orange concentrate from Brazil to Australia just because it's cheaper than getting a delivery from Harvey, just 2 hours away from Perth. And we need to realize that eating food that isn't good, clean and fair has consequences, even if it is more "efficient".
Picking up a fresh, organic apple grown in the South West of WA, and eating it? Now that's what I call efficient.