Fuku Omakase & Teppanyaki Restaurant
20 Glyde Street
Mosman Park 6012
Perth, Australia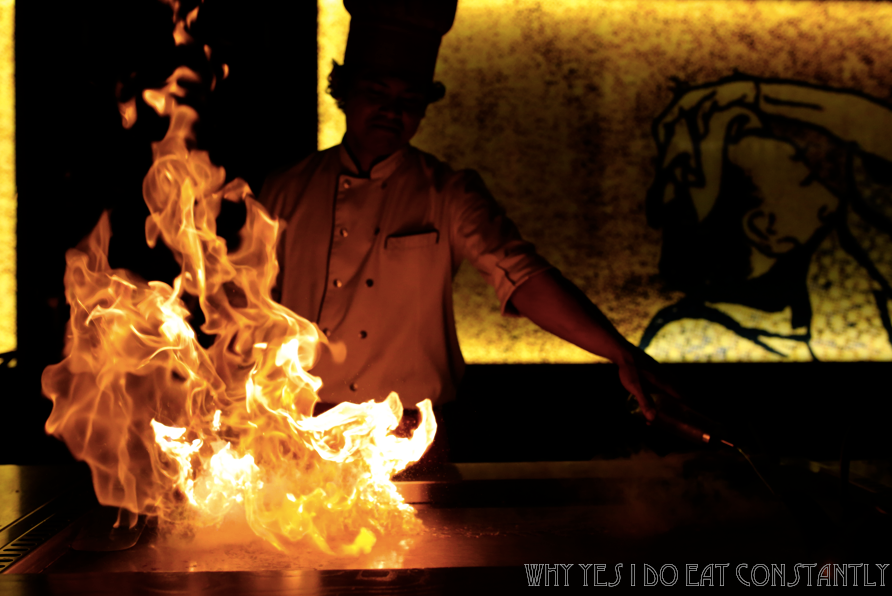 Figure 1: Whoosh
About two months ago I was in Italy backpacking, using the hostel Wi-Fi, when I received an email. It was the manager at Fuku Omakase & Teppanyaki Restaurant (who's name, incidentally, is Milan) inviting me to dine there as their guest.
I was so happy, I started squealing and flailing my arms around my head (this is generally how I express extreme emotion). The group of Germans playing cards opposite me probably thought I was a bit special. After I had composed myself, I wrote back like the classy young lady I am that I would be simply delighted to take up their kind offer to dine at their fine establishment. We set a date for August.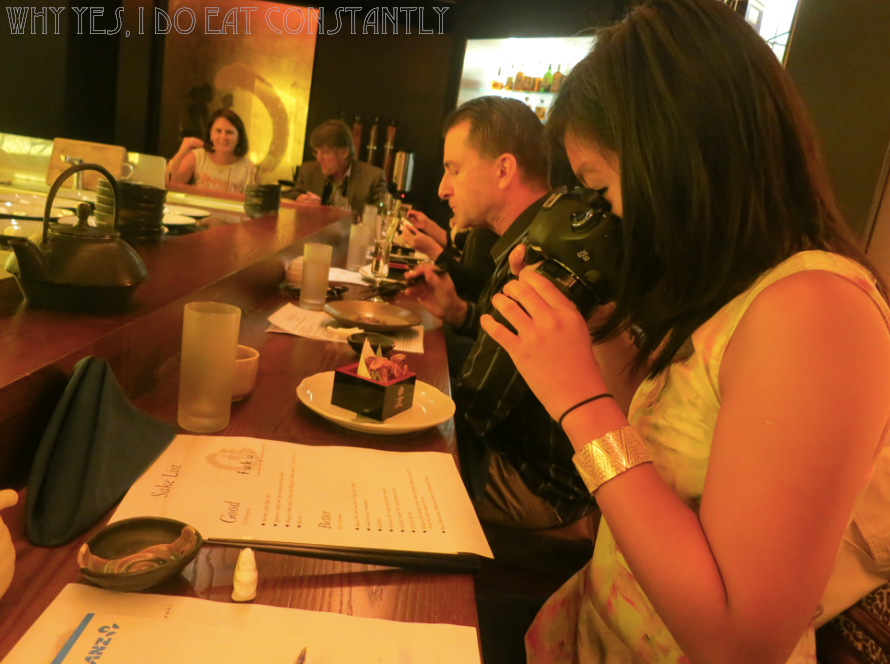 Figure 2: Super intense camera? Check.
I didn't think twice about who I was going to bring with me. You may have seen Angela on my blog before, my foodie partner-in-crime. Angela had also just come back to Perth from exchange (she did a semester in Shanghai). And since we hadn't seen each other for 8 months, it seemed only fitting that we be reunited over an 8-course meal.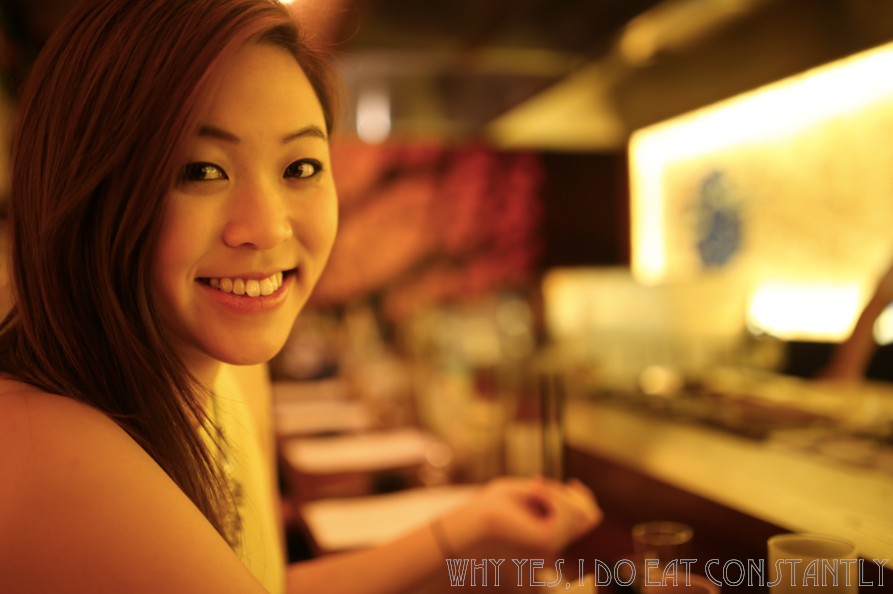 Figure 3: Angela, the seaweed to my sushi, the teri to my yaki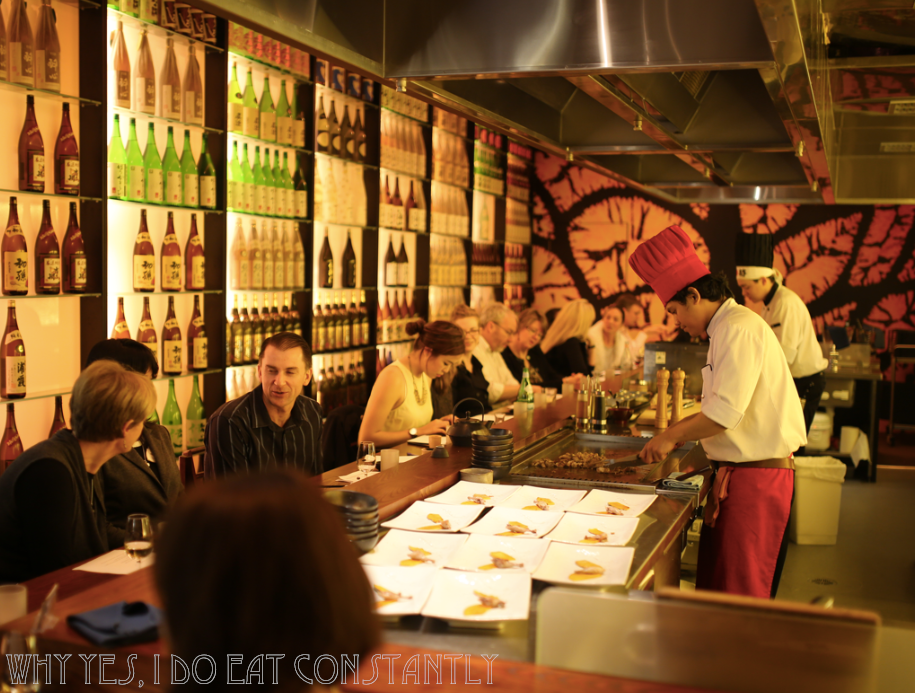 Figure 4: Full house
Fuku opened its doors late 2012 and is actually the sister restaurant of Tsunami Japanese Restaurant, run by the same owner and situated right next door. The word fuku (福) means "blessed" or "lucky", and the interior design of the restaurant with its beautiful golden hues, glamorous fit-out and staggering sake collection seems to fit the name. One thing to note: the only people who will ever see the inside of Fuku are the people who eat there. There are no windows. To get inside, you have to ring the intercom and wait for the door to slowly slide open, where the waitress will greet you and take you to your reserved place on the table surrounding the teppanyaki kitchen.
Figure 5: Glass print of a Hokusai painting
Fuku only does one thing, and does it well: Omakase/Teppanyaki degustation. For those of you who have no idea what that string of twelve syllables means:
Omakase (お任せ) : This form of Japanese dining comes form the word makasu (任す) which means "entrust". Instead of choosing dishes à la carte, the chef prepares a series of dishes for you at his discretion. Typical characteristics are a good selection of the freshest fish, seasonal ingredients and immaculate presentation.
Teppanyaki (鉄板焼き) : At a teppanyaki restaurant, dishes are cooked in front of customers on a flat-surface iron griddle. The theatrical aspect is integral to this form of dining - teppanyaki chefs will flaunt their knife skills, perform tricks and set ingredients on fire for their audience
There are three different menus: "Good", "Better" and "Best", each increasing in number of courses and price. Angela and I each had the "Better" menu ($135), and Angela also had the accompanying sake degustation ($75).
Figure 6: The menu
Figure 7: Kawa Ebi and sun dried crispy nori sheet
First up, we were presented with an elegant little box, filled with shrimp served amongst some crispy seaweed pieces. I started munching away, removing all of the prawn heads when I saw that Angela was eating them whole, popping one after another into her mouth. I'm glad I decided to copy her - the heads added extra crunch, and tasted just as good as the body. And if you can imagine the texture of good quality pork crackling, without the pork taste - that's what the seaweed was like. Very thick, surprisingly strong and delightfully crisp. A suitably light and morish way to start our meal.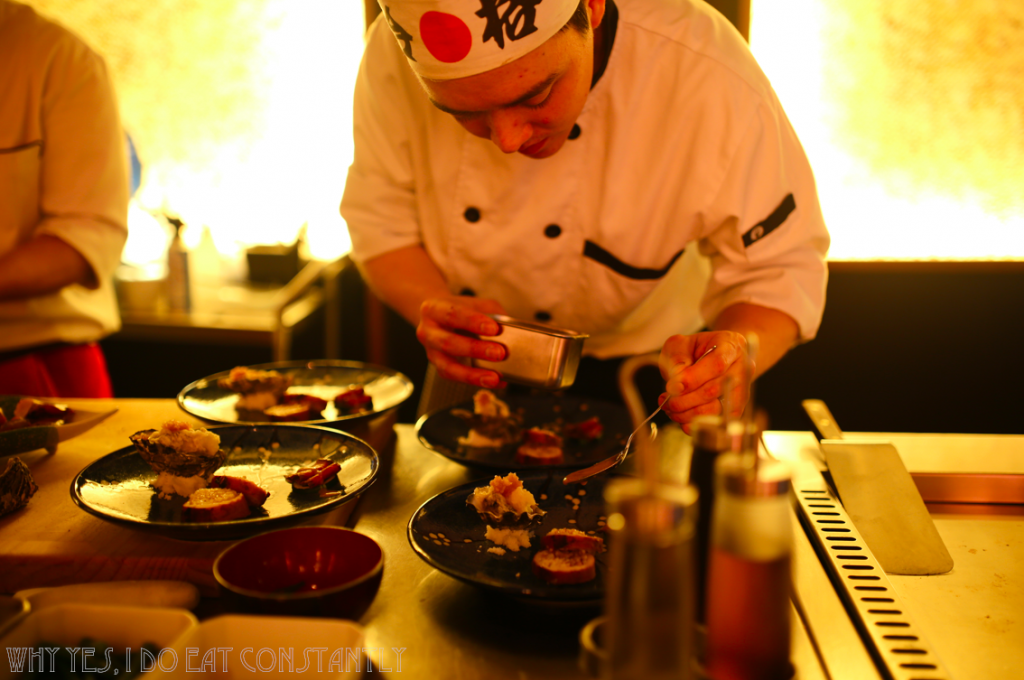 Figure 8: Gary plating up
The next course was a plate of
otsumami
(おつまみ), which comes from the word
tsumamu
(つまむ) meaning "to grab". Otsumami are the little snacks that Japanese people eat alongside alcoholic beverages (much more refined than beer nuts, believe me). Our selection included two medium slices of chilled wagyu beef with a white miso sauce, rice-stuffed squid dressed with a squid reduction, and finally a tempura oyster served in its shell, topped with crushed ginger. Angela preferred the oyster, but my favourite was the squid. I liked the firm,
al dente
texture and the sweet-and-salty sauce, which concentrated all the flavour to the front of your palate, and brought out the natural flavour of the squid.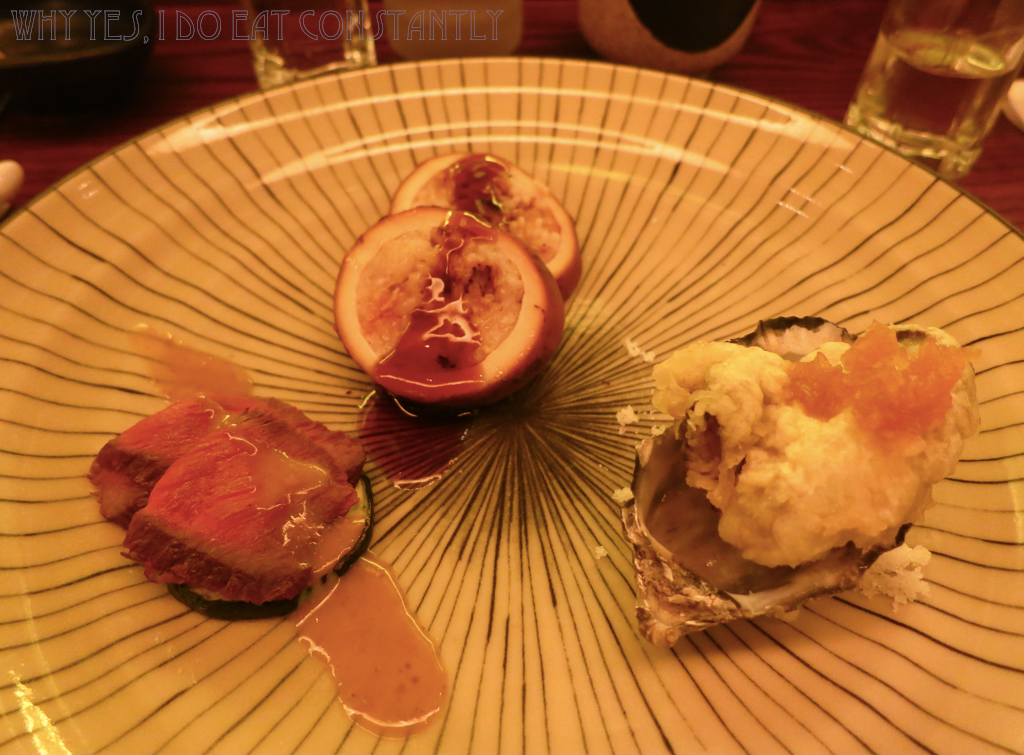 Figure 9: Wagyu beef, squid and oyster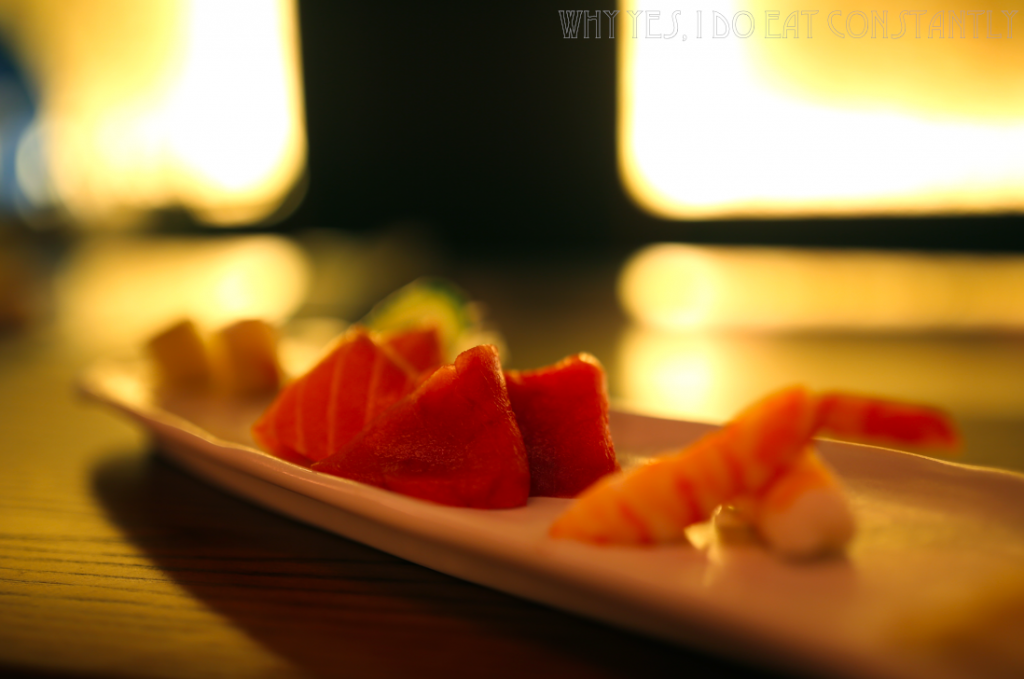 Figure 10: Sashimi platter
Something very odd happened to me during the next course, the sashimi platter. There was some prawn, two slices of Tasmanian salmon and some Fremantle tuna. When I inspected the plate, I couldn't help but notice that the tuna looked so very appetising, this deep purpley-red colour with a very slight sheen on it. I dipped it in a little bit of wasabi soy sauce, put it into my mouth, started to chew, and after a few seconds... I started laughing uncontrollably.
You heard me. The sashimi was so incredible, I started
laughing
. Angela took one look at me and followed suit, and we both sat there laughing with our mouths full of exquisite tuna not knowing how to deal with the situation. It was just so impossibly delicate it was barely there, so tender, fresh, the right temperature, everything. It was like eating sashimi ice cream, which disappeared your mouth like a cloud of sashimi goodness. The pickles on the side wrapped in kelp and ginger were little kicks of freshness, a perfect acidity to complete the culinary picture.
Figure 11: Wait for it...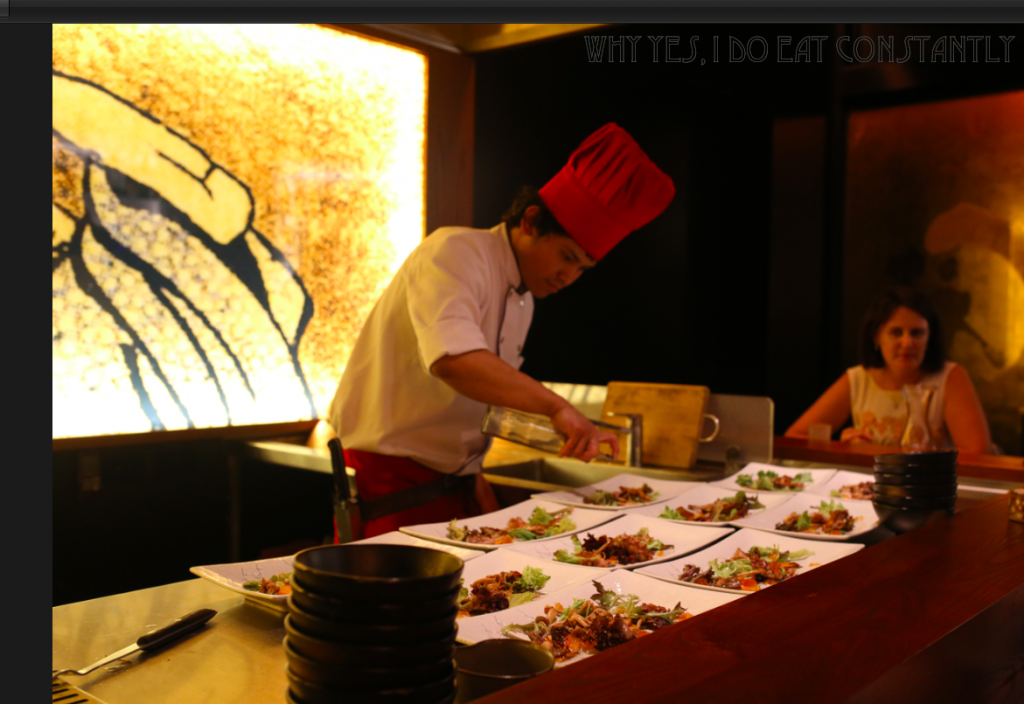 Figure 12:
Plating up
Course number four was organic free range quail warm salad, scattered with little blobs of dashi jelly and drizzled with truffle dressing. The unusual presentation of dashi (usually served as a hot soup) was quite clever, and left a refreshing, piquant taste in your mouth which lifted the richness of the truffle oil and other warm ingredients. The enoki mushrooms which had been grilled on the hotplate were like little bursts of flavour, and brought some moisture to the dish (quail is generally leaner and drier than other poultry). Some thinly sliced grilled pumpkin brought home the sweetness. Although the quail was the main ingredient, it was the other elements of the salad that made it work. A harmonious variety of textures and flavours.


Figure 13: Warm quail salad
Figure 14: Neatly shelling prawns
Next was
scallop, prawn & crispy prawn head.
This was where we got to see a glimpse of the teppanyaki tricks to come. To warm up, Jaymon started juggling pepper shakers, then proceeded to completely de-shell and divide up each prawn into legs and tails with a giant knife and fork. The amount of precision he got out of them was incredible. Human beings aren't even supposed to have that much control over their hands and feet. Then Jaymon got bored of juggling pepper shakers and decided to juggle sharp metal instruments.
Figure 15: Neatly laid out prawn tails
Figure 16: Scallops sizzling on the griddle
We were shortly presented with a little bowl with just three items in it: a prawn tail, a segment of crispy prawn legs and a seared scallop. The scallop was luscious and silky and smothered in rich butter. Despite the just-cooked centre, Jaymon had managed to get some really nice golden-brown caramelisation on the outside. The prawn legs were also excellent - strong in flavour, crispy yet delicate.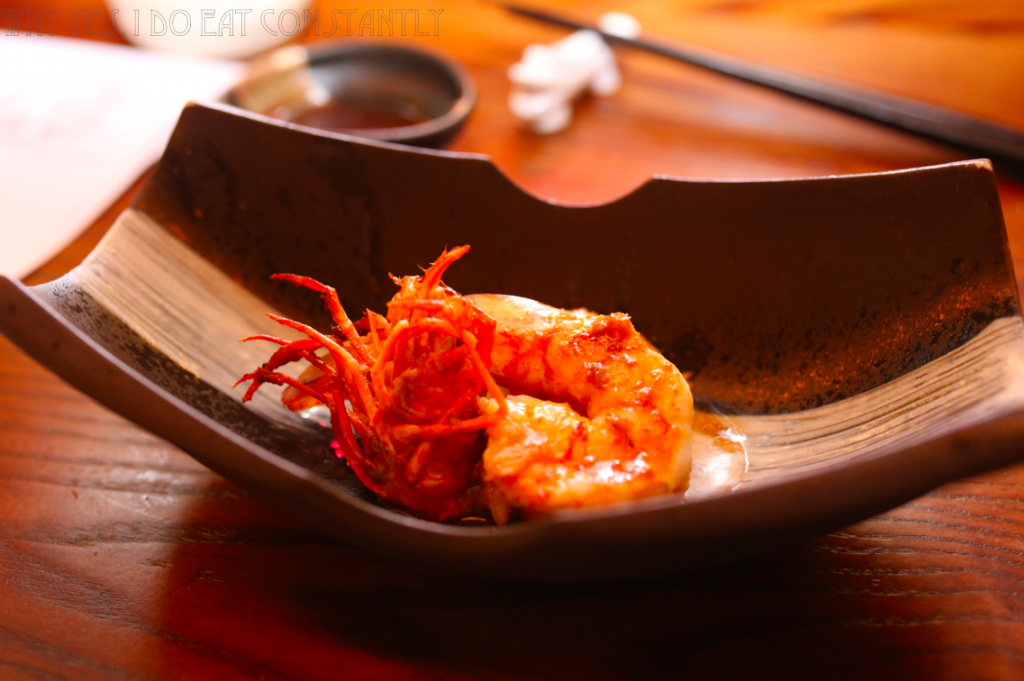 Figure 17: Scallop, prawn and crispy prawn head
Figure 18: Fish of the day
Course number six was a fillet of swordfish, served upon a bed of julienned burdock root and asparagus cooked in sea urchin butter. On top was a rosemary and miso sauce, which I absolutely loved. I didn't notice it at first, but towards the end you could taste an interesting blend of flavours going on which really lingered on your palate: rosemary, spiciness and a very smooth nuttiness from the miso. Swordfish generally has a less distinctive taste than other fish, so the sauce was really the champion of this dish.
Figure 19: Blast off
In the build-up to serving our seventh course, Jaymon upped the ante with the teppanyaki show. He used his utensils to deconstruct an onion and stack it into layers, filled it with a mystery substance, then set it on fire. Most people call this trick the "onion volcano", but I prefer "onion rocket ship". That onion had
horsepower,
dude.
As he was leaving the onion rings to caramelise, Jaymon started preparing the fried rice to go with our wagyu steak, in which there was some scrambled egg. Most people would just take an egg, crack it on a corner then split it over the grill.
But not Jaymon. He likes to toss his eggs above his head and slice them open mid-air instead.
Figure 20: Spinning the egg like a top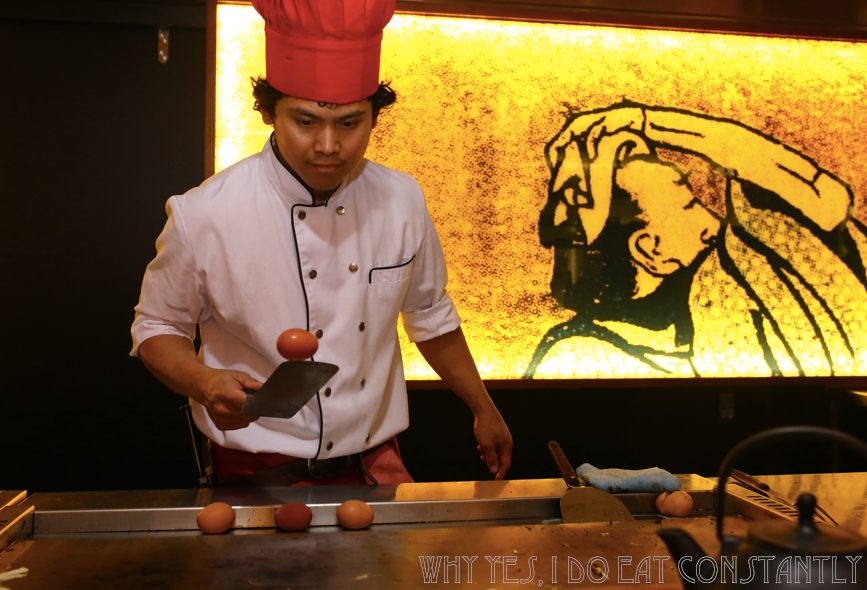 Figure 21: Flicking the egg up with the spatula 50cm into the air
Figure 22: Goal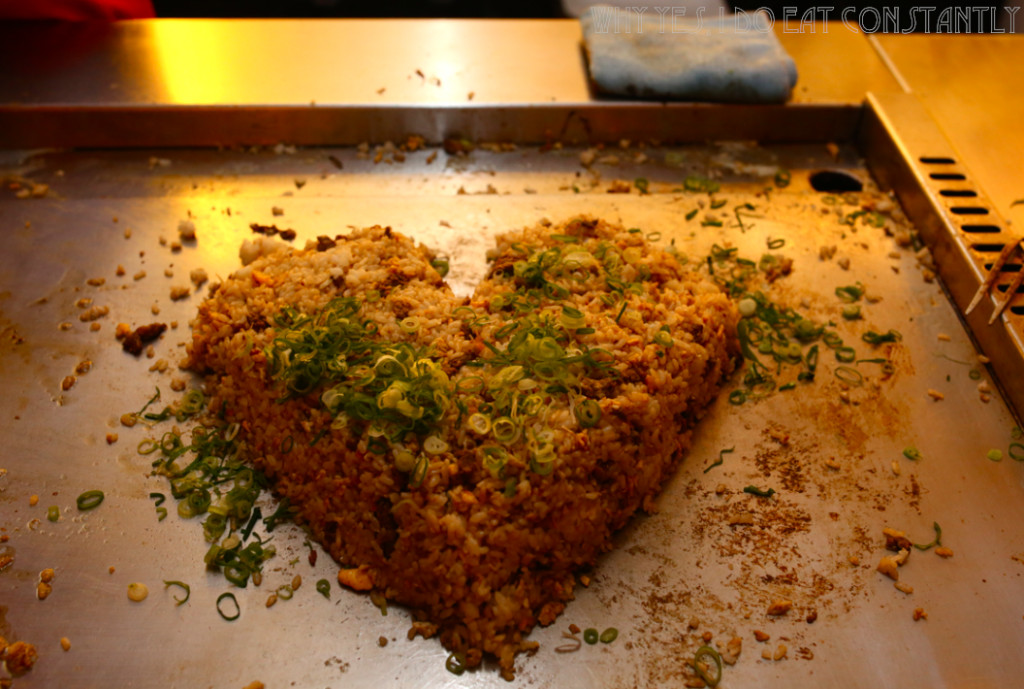 Figure 23: Nothing says love like heart-shaped fried rice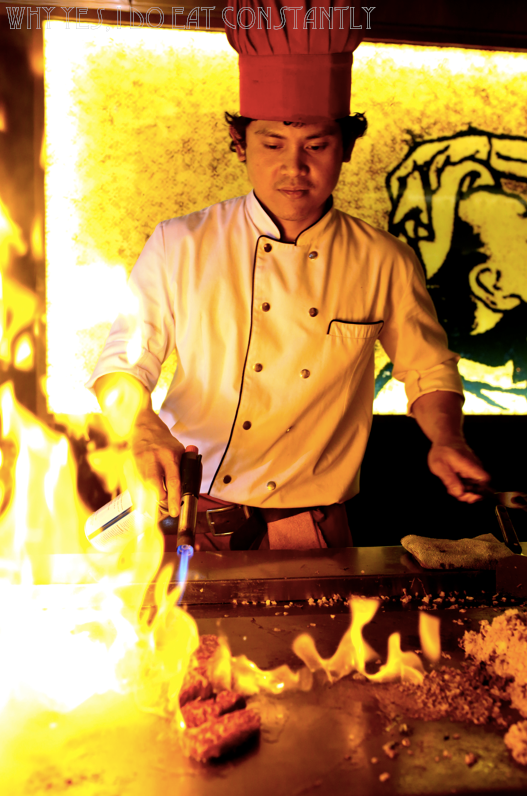 Figure 24: Flame grilled
Fuku orders their wagyu beef directly from
Mayura Station
in South Australia, one of the best suppliers in the country. Angela and I received a portion of full-blood wagyu sirloin steak with a side of wagyu fried rice. The wagyu was grade 9+, which is the highest quality grade you can get by Australian standards. Each customer was asked by the teppanyaki chef how they would like their steak, I asked for medium-rare, as always. My first piece was a little more well done that I would have liked. The second, getting there. But the third mouthful was cooked exactly how I like it, with a sublime texture, marbled so magnificently it was like a hybrid between flesh and fat. And the flavour? This beef was packed with full-bodied, natural flavour, so aromatic, and ever so slightly salted. Store-bought beef tastes like cardboard in comparison. A couple of fried garlic chips set on top sealed the deal.
Figure 25: Grade 9 wagyu beef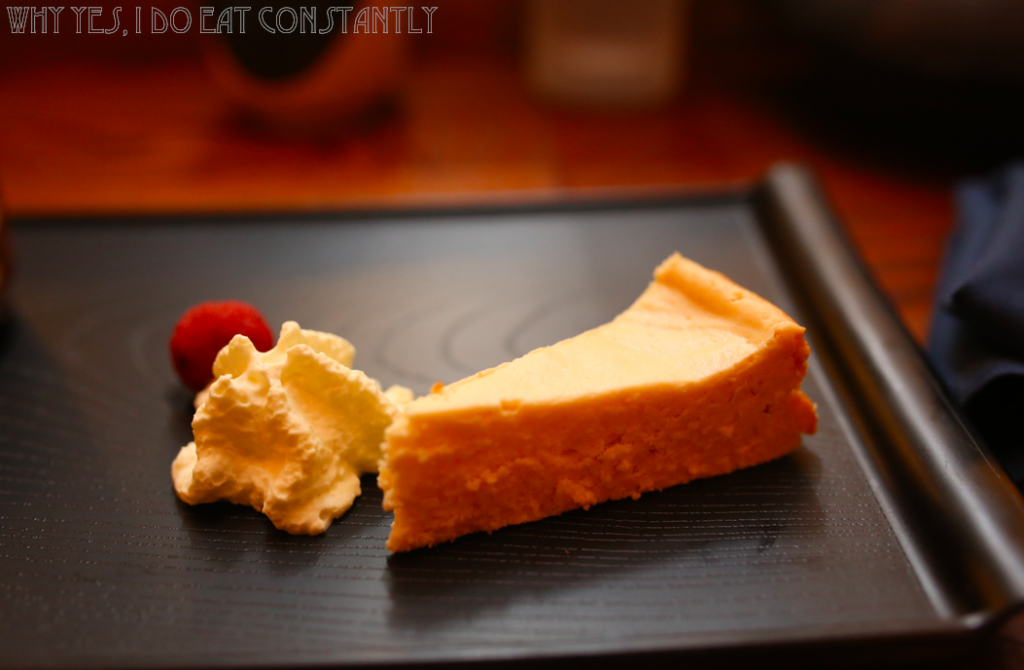 Figure 26: Yuzu Cheesecake, Chocolate drink and Mountain Peach
The dessert we had to conclude our omakase was very decadent, which was fine with me, especially since Japanese is a relatively light cuisine. Yuzu is an asian citrus fruit that looks like a cross between a mandarin and a lemon, and this was the main ingredient of our cheesecake. Just next to it was a little twirl of wasabi cream, whose flavour was so gentle that Angela and I sat there making
"tchup tchup tchup"
noises for a while before we decided that there was in fact wasabi in it. A mountain peach, also known as Chinese bayberry, was placed on the side, adding a splash of bright crimson colour and a sweet, tart flavour. A little cup of hot chocolate was a perfect way to finish off dessert, and to warm ourselves to face the cold night air outside.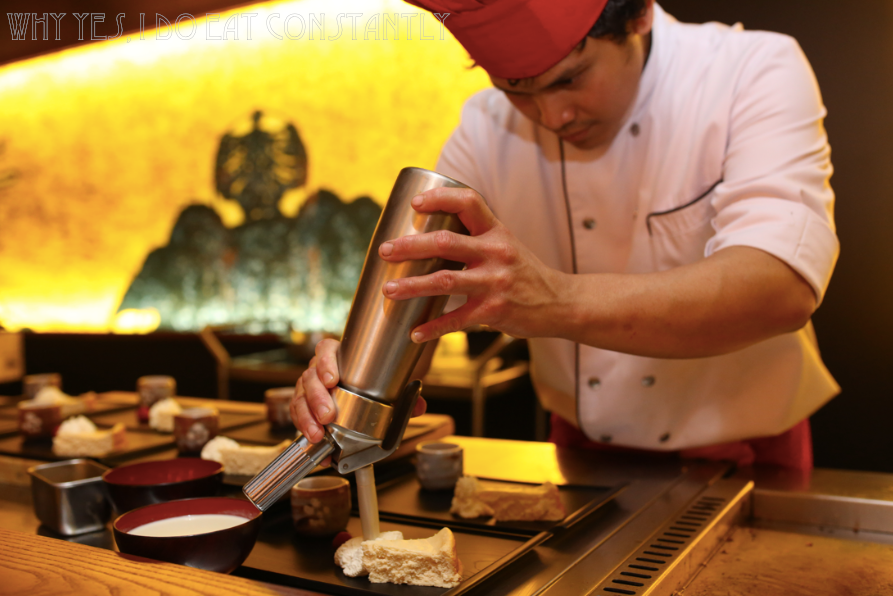 Figure 27: Complete focus
I think the best part about eating at Fuku is that the customer gets to witness how their food is prepared, at such close proximity. From where I was sitting, at any point throughout the meal, I could have reached out and poked Jaymon in the eye if I had really wanted to. I could feel the rush of heat hit my face as the oil caught fire. Angela and I even got to ask Jaymon and Gary a couple of questions about the ingredients (when they weren't too busy setting things on fire or juggling appliances). At a regular restaurant, the customers will never see the amazing processes that go into the making of their meal, let alone have a conversation with the chef.
Many thanks to
Edward Teh
for letting me use his camera for this review, and to Milan and all the staff at Fuku for the amazing foodie experience. It was one hell of a welcome back to Perth.
Figure 28: My happy food face