Every once in a while, I will find myself at a restaurant or café that really stands out from the crowd. And while I'm sitting there eating my meal, I always have the urge to burst into the back kitchen, brandishing my fork, to ask: "
Hey there. I just ate those ribs you cooked. So who are you? Why are you here? And how on earth did you make that meat so damn freaking tasty?"
Last semester in Dijon I took a couple of entrepreneurship units alongside food and wine studies, which only compounded my curiosity in how food establishments come into existence. So this little piece is the first of my "Real Foodies" series - articles about the people behind the food you eat. Because food is nothing, absolutely nothing, unless you've got an insanely passionate (or passionately insane) foodie cooking it.
Chez Gringo
25 Rue de la Comédie
8300 Toulon
France
+33 (0) 4 94 63 13 35
Figure 1: Brendan and his dog, Levi
This is Brendan. The first time I met Brendan was when I was in my hostel, playing piano with Charles. Brendan walks in with two helpers and gave us some flyers for his new Cali-Mex restaurant not far away. He chatted with us a little, told us a bit about his restaurant, then mentioned that he makes, amongst other things... guacamole. I die, for guacamole. And at that point in time, it had been six months, since I had had, guacamole. Naturally, I showed up at 8pm that night with six people I'd dragged along for some tucker.
And since that first meal at Chez Gringo, I've never looked back. In fact, I've tried everything on the menu.
Figure 2: Guacamole and tortilla chips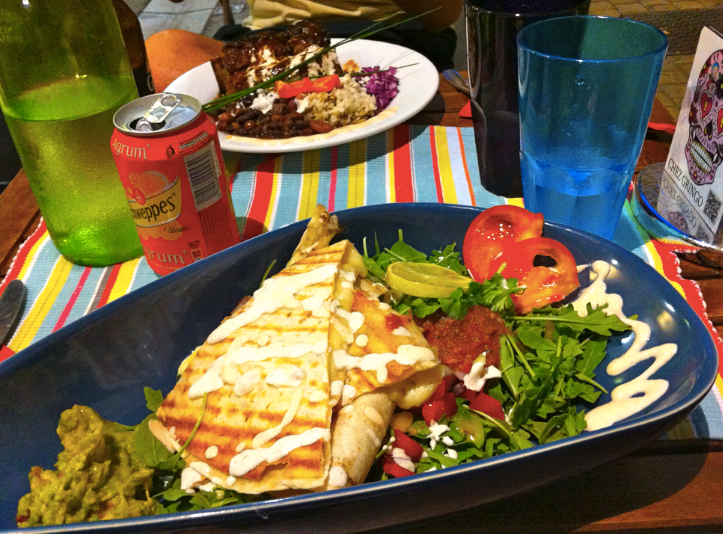 Figure 3: Shrimp quesadillas
Figure 4: Chez Gringo terrace
I got to sit down with Brendan and chat about his food after lunch service one day. Basic Brendan info is as follows: he moved to Toulon recently from California, where he had several jobs. His life basically consisted of doing a variety of awesome things according to the season. He worked for a fly fishing guide service called "Dipper Fly Fishing", worked at a ski resort and also worked at
Woah Nellie Deli
(the most famous gas station in America).
Speaking about his life back in the States, it seemed to me like Brendan had it going pretty good for him: a life of fishing, skiing and cooking. When I asked him why he would want to leave such a comfortable life, he said to me: "
When a bum lays down on a cardboard box and goes to sleep at night, he's comfortable
.
I don't want to be comfortable.
"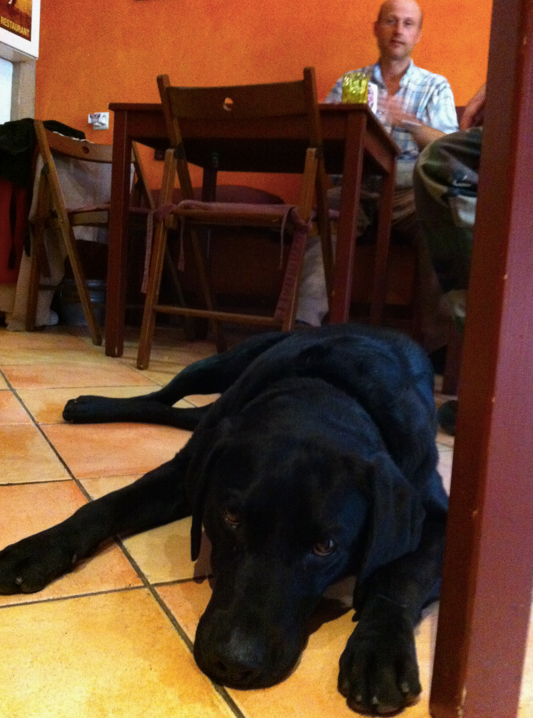 Figure 5: Levi chilling out
When you come to Brendan's restaurant, you can expect a relaxed, completely unpretentious atmosphere and good, home-cooked food (he makes his food the way he'd like to eat it, he says). You'll also see a group of people enjoying his food on the terrace outside, many of them regulars who are locals in Toulon. When there aren't so many customers around, maybe you might even find Brendan's dog Levi plodding around the restaurant, lying on the tiles to cool off, looking adorable (he loves it when you rub his belly). Above all you will feel like you're just hanging out at Brendan's place, which is why the name of his restaurant
Chez Gringo
is so fitting. He's just gotten a piano too, which customers can play.
Brendan's worked hard for all he has achieved. "
I kicked myself every day when I got here, for giving up everything I had back in America. I didn't speak a word of French. I hated the paperwork. I did the dishes, I did the groceries, I struggled with the accounting... But this is a new adventure for me. It's win-win. If I'm successful here, all the better. But if I fail, at least I can say that I had a restaurant here in the South of France for a period of time, and I loved it."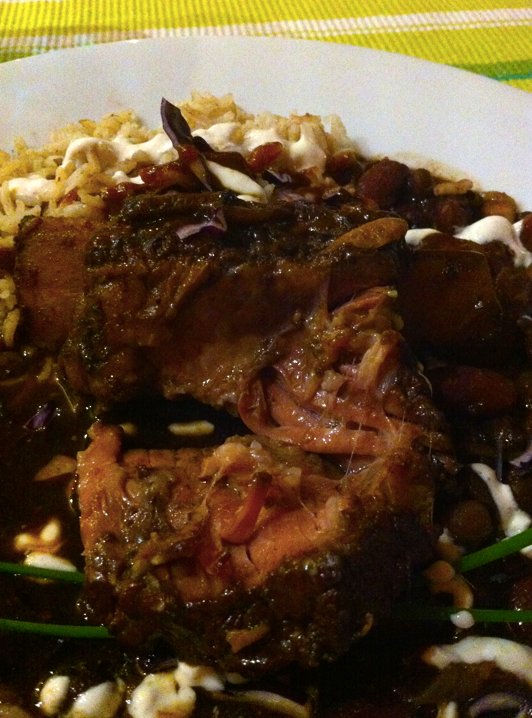 Figure 6: Cote à l'os
Figure 7: Chocolate mousse made with a secret ingredient
Figure 8: Traditional slider
Figure 9: Team Chicag' at Chez Gringo
I've always had a little dream to one day open my own foodie haven. So to be able to sit down and talk to someone who's gone ahead and done that is nothing short of an inspiring experience. So if you're in Toulon any time soon and are craving tacos, sliders, or guacamole like me, drop in to see Brendan and say hi to him for me.