L'Epicerie
5 Place Emile Zola
21000 Dijon
France
+33 (0) 3 80 30 70 69
lepicerie-dijon.fr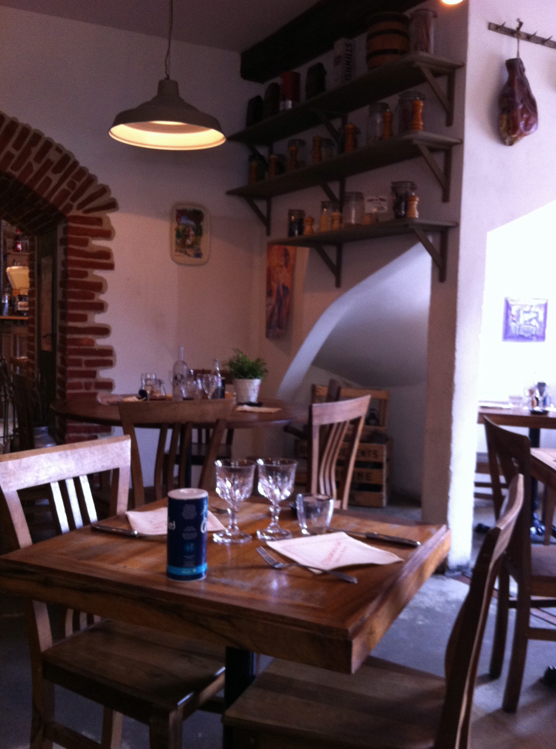 Figure 1: Just like home
I am almost embarrassed to admit that I have been to L'Epicerie a total of six times
. Six times.
So if you were to count how many days I've actually been in Dijon, that averages out to about once every eight days, which is preposterous. L'Epicerie is one of the first restaurants I ever went to in Dijon, and from the very beginning I simply fell in love with everything about the place - the food, the service, the cosy interior design, and even the owner's little shih tzu who goes around sniffing ladies handbags, receiving little pats as he totters around the restaurant. And I ain't complaining about the tall, dark and handsome
maître d'
either.
Figure 2: Valentines Day
The word
epicerie
is French for "grocery store", which is a fitting name for the little sanctuary that has been created inside the four walls of this restaurant. As you enter the restaurant, you feel as though you've stepped into a delicatessen in the French countryside. Jars of preserves, spices, and ceramic bottles line the shelves, legs of ham and ropes of garlic hang from the walls, and there is a certain warmth about the rustic wooden furniture, the modest stone walls, the tea-candles on every table. The waitstaff are welcoming, professional and never miss a beat. A feeling of contentedness and enjoyment reverberates around the restaurant, which amplifies when the restaurant is buzzing with customers.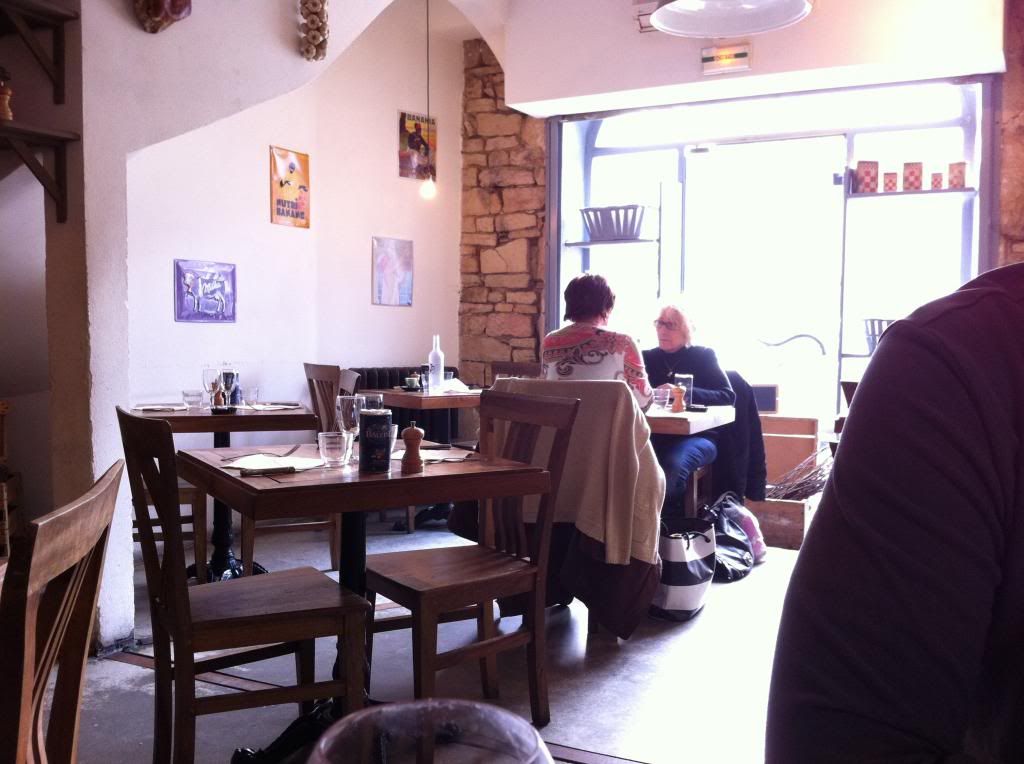 Figure 4: The sunlit dining room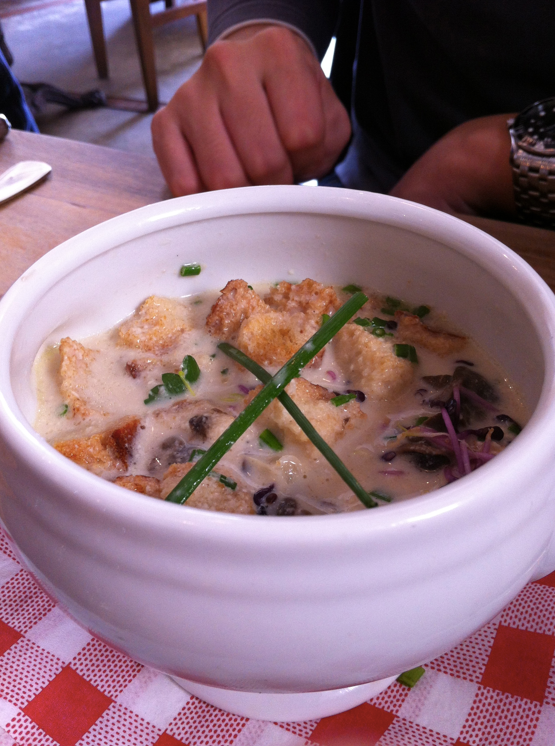 Figure 5: Cassolette d'Escargots à Aligoté
Until about a month ago, I had always been completely grossed out about eating snails, as most non-French people are. But then there was that plate of snails in garlic butter sauce at
Le Petit Roi de la Lune
which changed my life forever, and now I'm hooked. When it comes to snails, it's like my brain screams "
No!
" but my stomach screams "
OMNOMNOMNOM!
", and we all know who wins the battle with that one. Snails are actually fairly tasteless compared to other meats, and quite frankly they taste like chicken. The trick is to get over the fact that you're eating something that used to be alive, ugly and covered in mucous. After you get past that, eating snails can be a positively delightful experience.
The
Cassolette d'Escargots
is one of the many entrées at L'Epicerie, which is basically a creamy snail soup made with
aligoté
, a dry white wine characteristic of the Burgundy region. It was deliciously smooth, yet still sufficiently light from the acidity of the wine, and the crispy croutons on top added a nice contrast. I loved the variety of textures in the dish, which also helps in distracting you from the awkward texture of the snails. The dish had been made with a dynamic blend of herbs which gave it a beautiful aroma and complemented the earthiness of the snails. You
must
try it.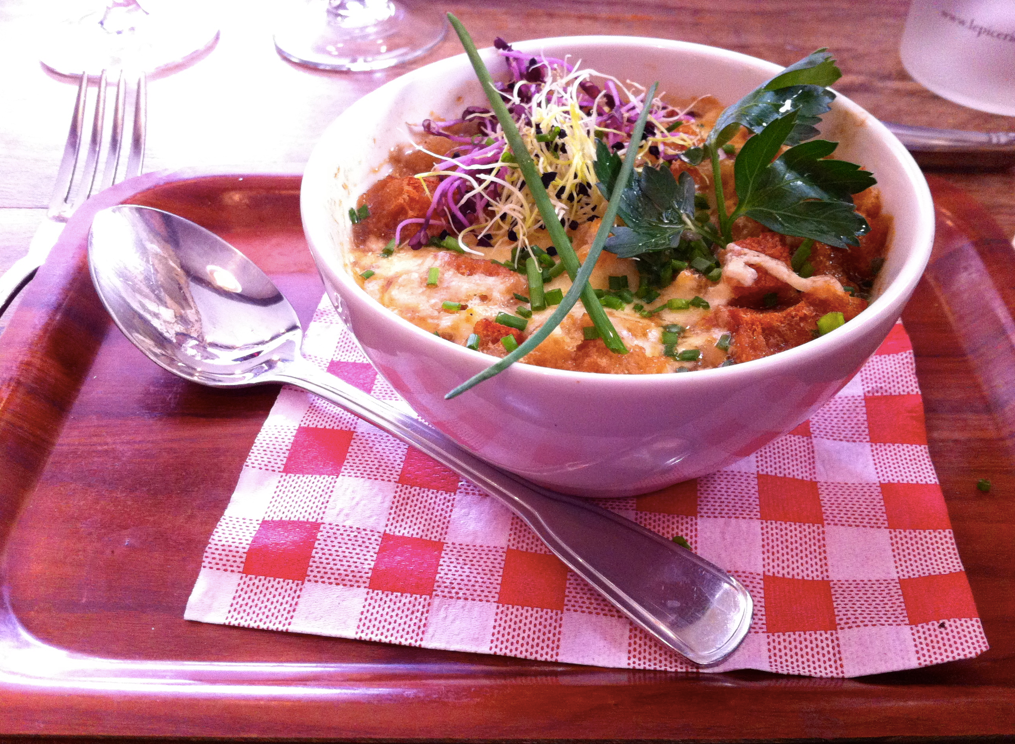 Figure 6: French onion soup
The
Soup l'Oignon
is another entrée that I like here - especially the zingy little garnish on top. You use get your spoon and cleave into the thick surface of toasted bread and melted cheese, and underneath you find a dark, fragrant soup with long, tender slices of onion through it. And when you eat it by soaking up some of the soup with some bread from the table, you get a mouthful of rich onion soup with a beautiful
crunch
of baguette. Classic.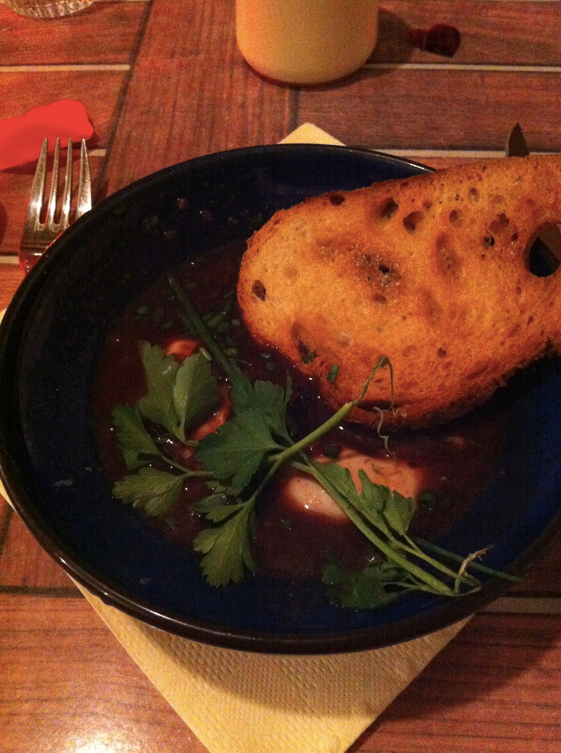 Figure 7: Oeufs en meurette


This
is the best entrée I've had in France so far.
Oeufs en meurette,
another Burgundy specialty, is eggs poached in a red wine sauce. Itzel & I shared it as an entrée on one of our very first food adventures in Dijon, and as soon as we had a spoonful we both exchanged looks of delight and astonishment - it looked so simple, yet tasted so
delicious
. First, the fragrance of the red wine in the dish hits you. Then you split the egg open and the thick, orange yolk blooms into the glossy, purple sauce. Then you grab the crispy crouton and snap off a piece, snatch up as much sauce as you can and pop it in your mouth. And if you can stop after the first bite, I will be very, very surprised. I love
oeufs en meurette
because it has a heavy, rich, meaty base, but a comparatively light main ingredient. This lovely balance, combined with its intoxicating aroma, is just magical.
Figure 8: The quintessential Burgundy dish!
There is only one main dish you need to know about at L'Epicerie
-
the
Boeuf Bourguignon
, or beef braised in red wine. It is
the
signature dish of the Burgundy region. It comes presented as a "workman's lunch", in this cute little dark-green metal box with a spindly handle. The lid pops open to reveal a slab of freshly cooked gnocchi topped with grilled cheese (this gnocchi is to
die
for by the way, light as a cloud). Then you have to remove the piping-hot compartment on top which reveals the steaming
Boeuf Bourguignon
sitting underneath. The braised beef pieces have been slow cooked, so they're melt-in-your-mouth tender, with an almost buttery consistency. The natural sugars in the vegetables have been brought out by the cooking process and accentuated by the red wine. With a few
champignons
added, it's the ultimate French meal. Unfortunately I have no pictures of the stew itself - both times I ordered it, I got a bit carried away... and suddenly there was nothing left to photograph.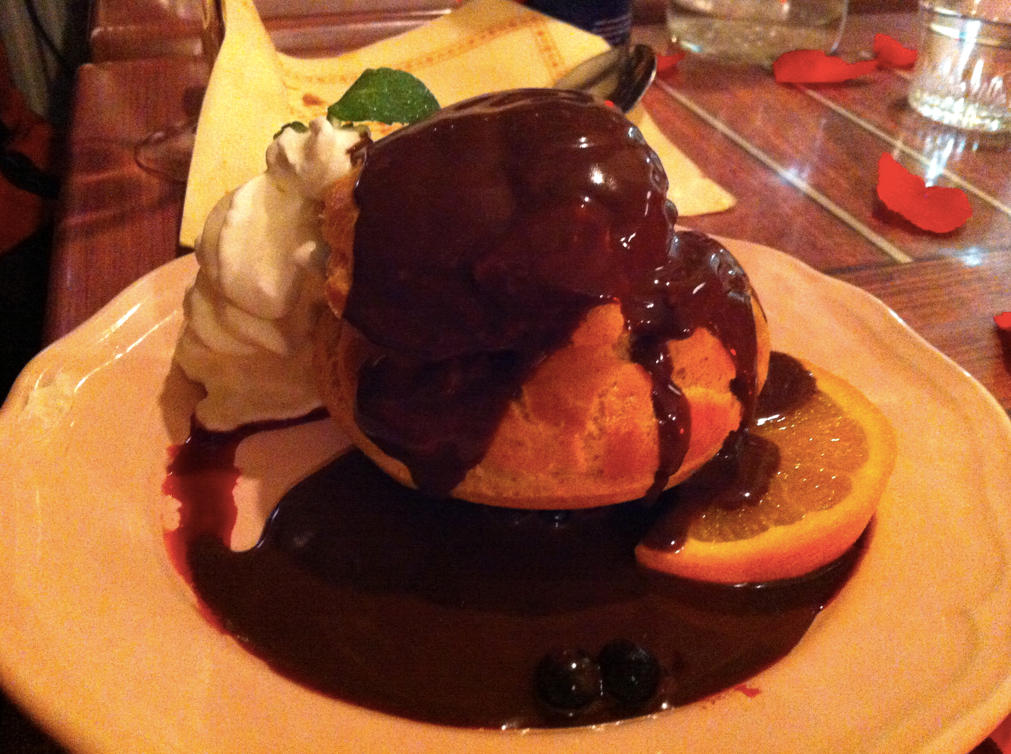 Figure 9: Food coma secured
When it comes to dessert, my advice to you is to order the big whopping profiterole that comes swimming in a rich chocolate sauce, served with a generous dollop of
chantilly
cream. But the best part is what's actually inside the profiterole:
crème de cassis
sorbet. When you crack open the profiterole, the sorbet starts to melt agains the piping-hot chocolate and melds together with the cream, forming a mixture of sweet-and-sour, chocolatey, blackcurrant heaven.
Crème de cassis
is a sweet, dark liqueur made from blackcurrants, and is another specialty of Burgundy. At almost every restaurant or bar in Dijon, you will find
"kir"
on the menu, which is white wine with a measure of
crème de cassis
added to it. Incidentally,
crème de cassis
is also the favourite drink of one of Agatha Christie's most famous fictional characters Hercule Poirot, pictured below. And if this guy likes it, you know it's gotta be good.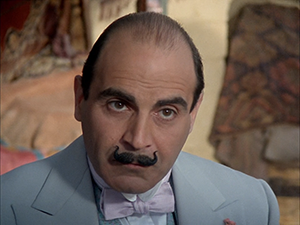 Figure 10: "I sink you should get ze profiterole."
Figure 10: Photo courtesy of Meg Lusty Photography
If you want something a little lighter for dessert - definitely go for a couple of scoops of L'Epicerie's home-made ice cream. After trying almost all of the flavours over the course of two months, the best flavours in my opinion are
petit-beurre
(the name of a famous French butter biscuit),
pain d'épices
(gingerbread) and of course, Nutella. The Nutella flavour has had actual Nutella stirred through it, so there are frozen twists of nutella all through it which snap in your mouth while you're eating.
Ice cream is charged by the scoop, but the fifth scoop is free. This what we call "manipulation".
Figure 11: Good ice cream = happy faces
I've had so many great meals here: leisurely lunches and candle-lit dinners and spontaneous dessert escapades, with old friends and with new friends. I think if I ever come back to Dijon to visit after exchange, I'll have to come back here to relive all of those memories.
One of the simplest pleasures in life is to enjoy good food in the company of good people. And that is exactly what I have done.