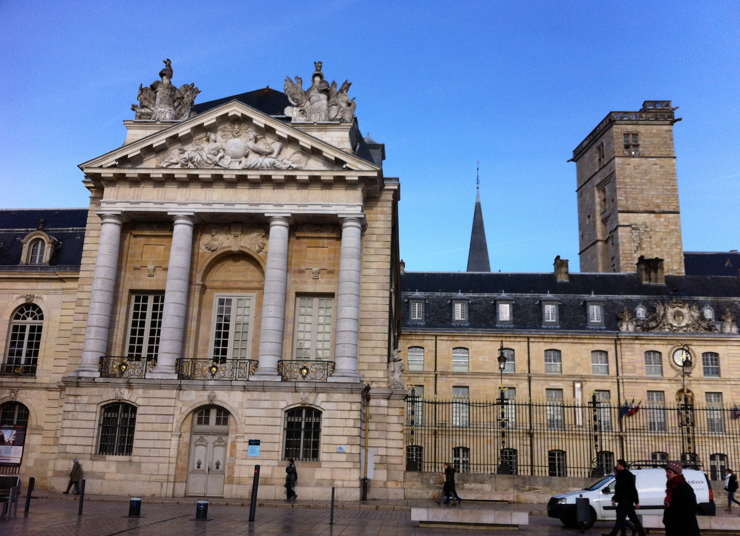 Figure 1: Palais des Ducs et des Etats de Bourgogne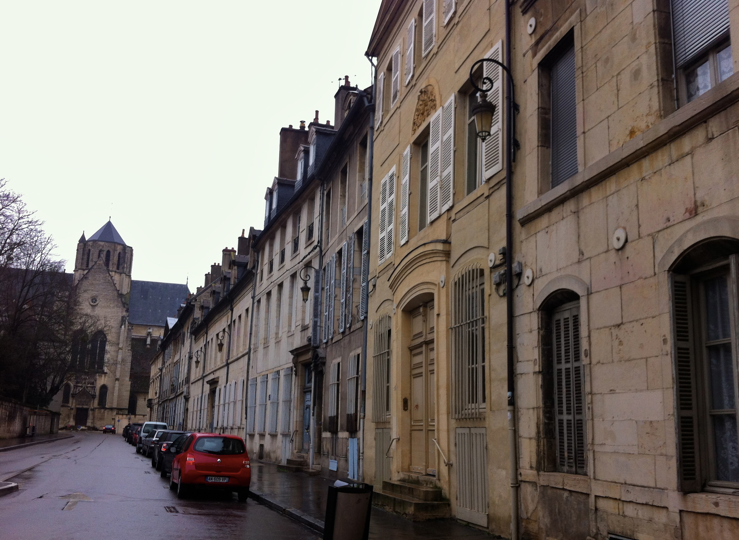 Figure 4:
À velo?
During the last seven days, I have observed several notable differences between life in Perth and life in Dijon. Firstly, everyone drives on the wrong side of the road in France (no idea what's going on there). Secondly, I see people eating cheese more often than I see people drinking water. Thirdly, I'm freezing my ass off - the average maximum temperature for this coming week starts with a negative sign. And lastly, but most importantly:
I simply cannot,
stop,
smiling.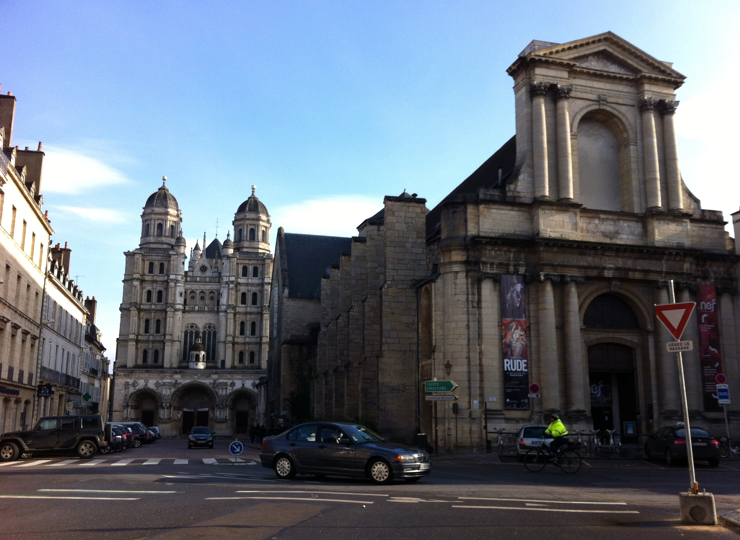 Figure 5: Place du Théâtre
Figure 6:
The original Maille Mustard store
The first thing you need to know about Dijon is, it's where Dijon mustard comes from. Very important. Secondary information is as follows: Dijon is a small city in eastern France, about 90 minutes from Paris by train. A large proportion the population in Dijon are university students, which gives the city a youthful, effervescent atmosphere. Also, after spending a day or two in Dijon, you'll see a lot of references to the "Dukes of Burgundy" - some dudes who lived in a big whopping palace right in the middle of town, between the 11th and 15th centuries. In its heyday, Dijon was a place of tremendous wealth and power, and was thought to be one of the major European cities of art, learning and science.
There is undoubtedly much to be said about the amazing architecture of Dijon - its origins, how it developed and its characteristic features. But all I know is that it is beautiful. There are a few modern-looking buildings here and there, but most of Dijon is made up of these incredible, grand houses, cathedrals, monuments, theatres, shops and apartment buildings.
Figure 9:
Wandering the streets
In my eyes, Dijon is perfect in every way - not too big, not too small. Beautiful old architecture yet not wanting of any modern facilities. It's clean, quiet and safe. I can pick up a freshly baked chocolate croissant for breakfast, for about one Australian dollar. It snows. The florist sells bunches of tulips for €2.50. Everyone is young, amiable and stylish. The French women here inspire me to dress impeccably, and the French men here inspire me to... nevermind.
And most of all, the food here is (pardon my French) fucking amazing.
Paul
Course de la gare
21000 Dijon, France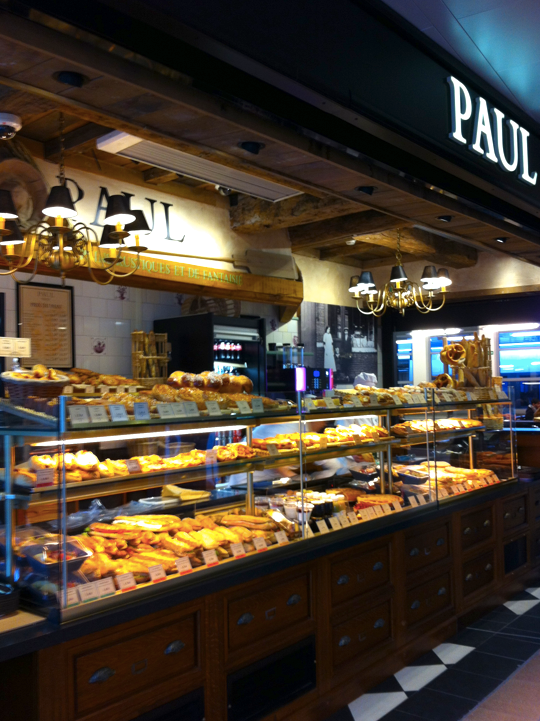 Figure 10: Paradise
Friday was apartment-hunting day, and I set out on a mission to find the perfect place to live during semester. After seeing several apartments which were all really far from each other (one of which was on the 8th floor of a building, with no elevator), I had the munchies. So I ended up at Paul, a little pâtisserie right next to the train station. I went up to the counter and ordered a
Menu Paul
: your choice of a sandwich, cold drink and dessert for €8.60. The plump, rosy-cheeked French girl behind the counter was so enthusiastic about serving me, I thought she was going to break into song.
Figure 11: Baguette au poulet
I managed to make it back to my table without dropping anything (I was juggling my lunch, a map of Dijon, water bottle, coat, gloves, scarf, beanie and phone) and started tucking into my chicken baguette. And you know those ads on TV where someone bites into something delightfully crisp and delicious, like an apple, and it makes that exaggerated crunch sound? That's what my baguette sounded like. Crusty on the outside, dense and earthy on the inside, yet still retaining lightness. There's not much to say about what the filling was like - I was too busy enjoying the bread. And I sat there eating for about 10 minutes, trying to figure out what the peculiarly spicy, sour taste was in my baguette, when it hit me... there was Dijon mustard in it. Massive win.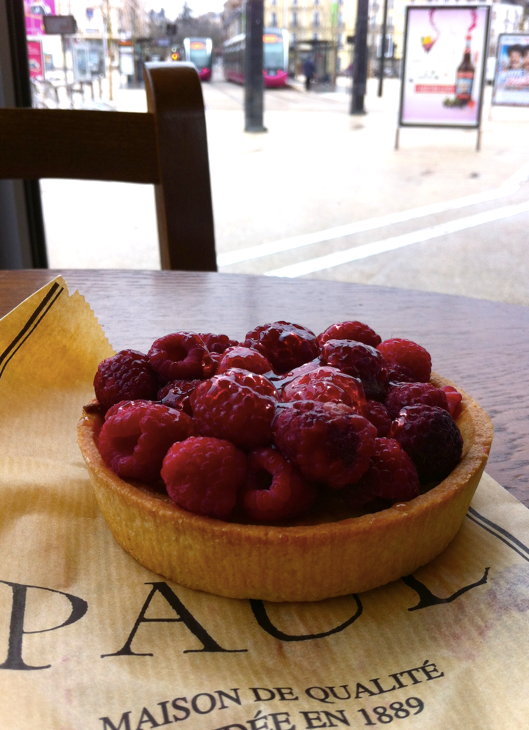 Figure 10:
Tarte aux framboises
I then rounded onto my raspberry tart, and had a little photoshoot with it in the middle of the café, much to the bewilderment of the other patrons around me. I then proceeded to demolish it slowly but surely, savouring every bite of the tangy berries and the buttery, crumbly pastry case. And as I sat there indulging in my silly little tart and watching the world go by, I couldn't help but feel so happy about being exactly where I was. It was probably something like the equivalent of a French person sitting in a café in Australia having, what looked like, a love affair with a sausage roll.

But I care very little about the people who stare at me when I'm doing my foodblogging thing. I know what makes me happy. And as far as I'm concerned, that is absolutely nothing to be ashamed of.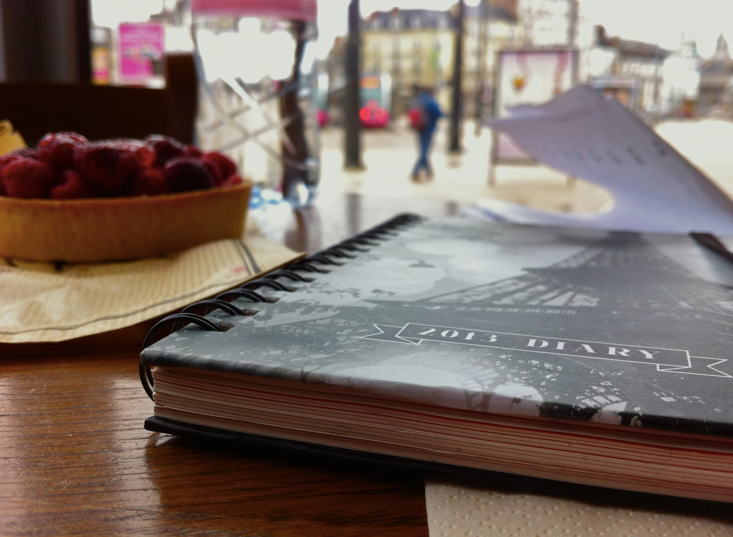 Figure 12: Making plans
Figure 13: Perfect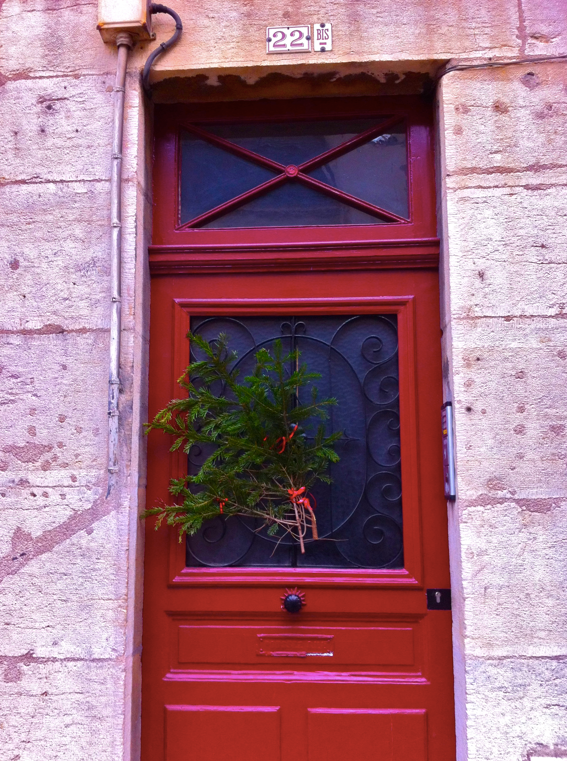 Figure 14: Winter