Marumo Japanese Kitchen
Shop 2, Beasley Road
Leeming Park Shopping Center
Leeming 6149
(08) 9310 8255
In the lead up to exams, Jeremy insisted that I should keep the 13th of November free. He wouldn't tell me what for, said it was a secret. So I cleared my schedule from 6pm that day, a little unwillingly, as it was smack bang in the middle of my law exams.
I was a little clueless when we got into the car and he started driving South. Once you get past the Leach Highway exit, the foodie landscape gets a little dubious. By the time we turned left into
Leeming
via Beasley Road
,
I was completely perplexed. Where on earth were we going to eat around here? Banksia Park Primary School?
But I kept my mouth shut (something which happens very rarely) and waited patiently until we arrived at our destination. I figured if he had asked me to save a date almost two months in advance, it would surely have to be for a good reason.
It was.
Figure 1:
Feed me!
Marumo Japanese Kitchen was opened in January by Moe Oo, formerly head chef at Hayashi in Applecross. Moe then took over the Leeming Fish 'n' Chip shop, and some time later, transformed the premises into a Japanese restaurant. It didn't take long for word to spread about his 7 Course Omakase, for the outrageous price of $39. Marumo has been booked out three months in advance ever since. Don't believe me? Check out the availability on the website. It's nuts.
Omakase
comes from the Japanese word
makasu
(
任す),
which means "entrust". In this form of dining, instead of choosing your own dishes from an à la carte menu, the chef prepares a series of dishes for you at his discretion. Although the whole point of
Omakase
is to allow the chef to choose what he think is best for you, it's not impolite to put in a request to omit or favour certain ingredients. Typical characteristics of
Omakase
are a good selection of the freshest fish, seasonal ingredients and immaculate presentation, all of which were present at Marumo.
Figure 2: Chopsticks printed with sakura flowers
The restaurant seats less than 15 people, but the tables have been arranged in such a way that it doesn't feel cramped. The interior design is humble: basic furniture, a couple of ornaments, and white walls with some colourful stickers stuck onto them. But what I really like about Marumo is that Moe has kept the old layout of the Fish 'n' Chip store, meaning there is no wall separating the kitchen from the customers. So throughout the meal, meters away, you can actually
see
Moe carefully slicing your sashimi, you can
hear
him blowtorching the crème brûlée, you can
smell
the salmon sizzling on the teppanyaki grill. And because Marumo is so small (you can cross the restaurant floor in four strides) the time gap between Moe finishing your dish, and the food arriving at your table, is about 10 seconds.
Appetiser
Wakame
(seaweed salad)
Not only does
wakame
have this awesome crunchy, gelatinous texture - it's also incredibly healthy. It contains this stuff called fucoxanthin which burns fatty tissue that accumulates around the internal organs, and is also packed with omega 3, calcium, iodine, thiamine, niacin. So it's a bit like an Asian Nutri-Grain.
While poking around on the net, I came across this awesome
food blog
with a seaweed salad recipe and how to make the tasty seasoning from scratch. I might even try making this next week!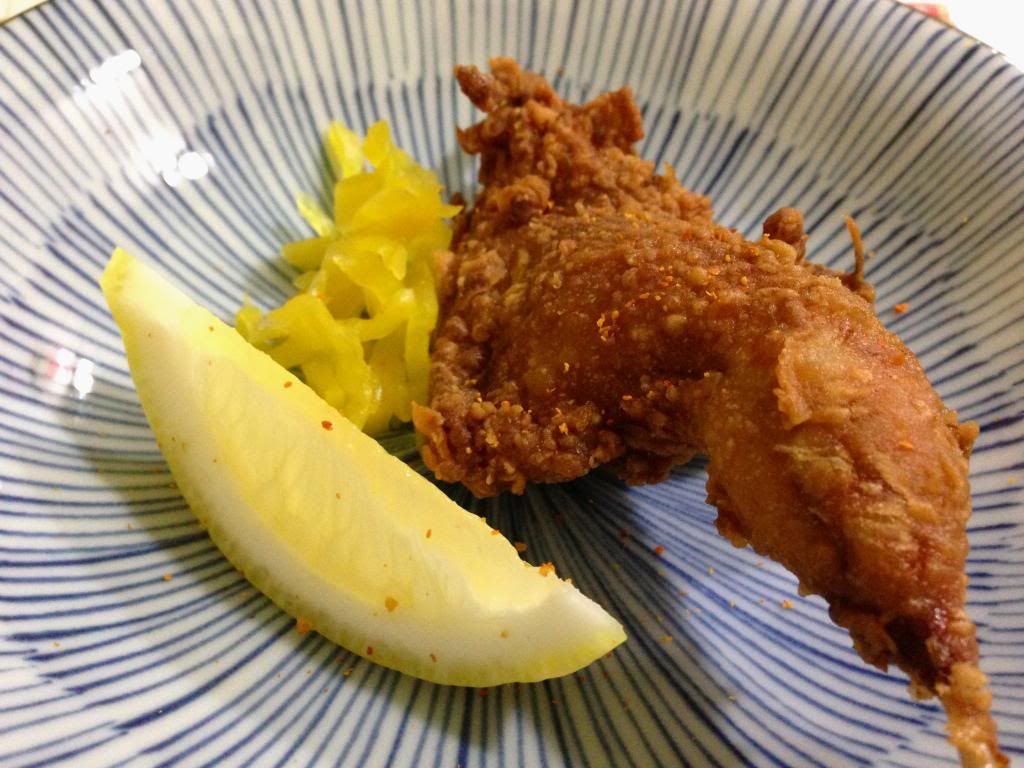 Karaage
Soy Marinated Quail with pickled
daikon
(white raddish)

I'm convinced that quail is just one of those things that cannot be eaten politely and neatly, like durian, hot dogs and Hor Fun. I swear that there are bones in a quail that don't exist in a chicken, because every time I go to eat a serving of quail, my plate is soon littered with bones and strands of quail meat that I've had to pull off of the intricate little skeleton. But despite my personal struggles with quail biology, I still enjoyed the tasty, tender meat and liked how delightfully thin and crunchy the batter was. The subtly sour daikon and lemon were a perfect accompaniment.


Korokke
Vegetable croquette with
shichimi
lime mayo
This course slotted in well to the progression of dishes from lighter to heavier. Because it was deep fried, it was a little heavier, but not too much, thanks to the light potato filling. Shichimi is a Japanese spice mixture containing 7 ingredients: chilli pepper, Sichuan pepper, roasted orange peel, black sesame seeds, white sesame seeds, poppy seeds, ground ginger and nori (dried seaweed). It gave the mayonnaise a bit of kick, and when you dragged some crispy croquette through it, mixed with a little bit of the sweet, brown sauce, the balance of flavours was lovely.
Kushi-yaki
Char-grilled Mt Barker chicken thigh with green onion
Very, very tender - with just a little nudge, the chicken would fall off the skewers. The chunk of spring onion was caramelised, so you got a little bite of sweetness at the end. Simple but good.
Sashimi
Chef's selection of assorted
sashimi
served with
wasabi
& soy sauce
The sashimi was probably my favourite thing out of the whole Omakase. Sometimes at Japanese restaurants you'll get sashimi that is overpoweringly fishy, or too warm, or too limp, or lacking flavour. Good sashimi is a combination of the freshest fish and excellent knife skills, and that's exactly what this was. The tuna was a beautiful vibrant colour, had a nice firmness, and of most of all, it tasted incredible. The fish was so fresh that you could use your chopsticks to lift off each layer of flesh. I'd even go so far as to say it's the best sashimi I've ever had, but don't take my word for it. Try it yourself, and let me know what you think.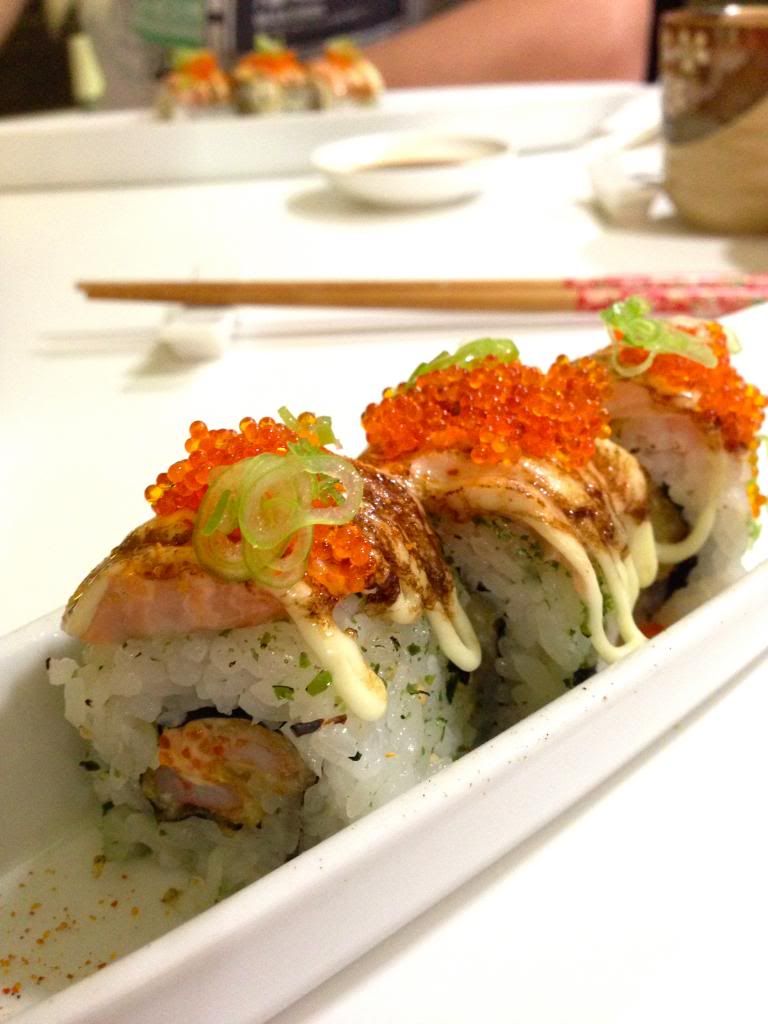 Sushi
Lightly torched Tasmanian Salmon belly sushi roll with crispy prawn &
tobiko
This one was a fairly rich sushi, because of the warm salmon belly on top, the fried prawn inside and lashings of creamy mayonnaise. It was also quite moist, which meant that the sushi was more of a melt-in-your-mouth consistency than the chunky, lego-like texture I'm used to at Nagano's at Broadway. The psychedelic orange stuff is tobiko or flying fish roe, smoky and salty in flavour and pops in your mouth. And again, beautiful presentation.
Palate cleanser
Orange sorbet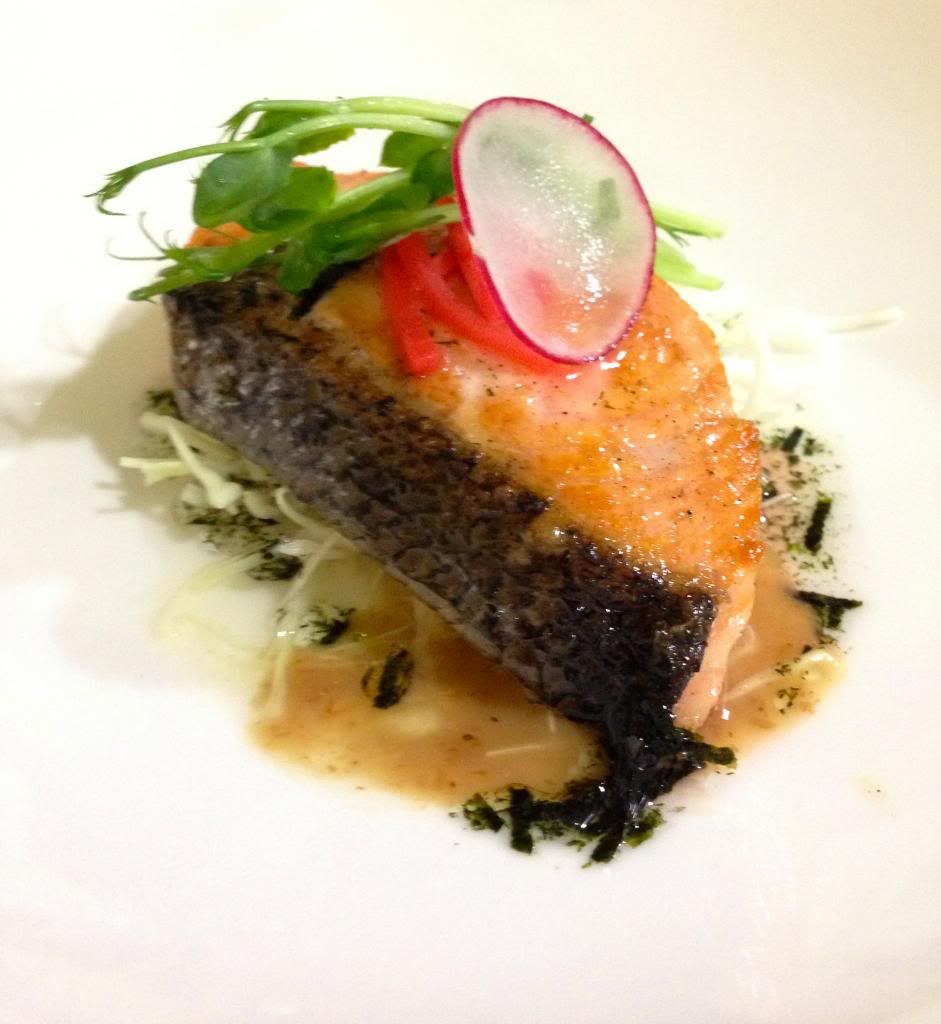 Fish
Teppanyaki
salmon served with
nori
oil
While tucking into my salmon, it was driving me freakin' crazy that I couldn't figure out what this flavour was in the sauce that made it taste so unique. It was sesamey-ish and nutty and creamy and sweet and sharp and salty, all at the same time. I'm still not quite sure what it was, but I've never tasted something like that in a Japanese restaurant. The salmon itself was cooked to perfection and the skin on the salmon had a powerful flavour. Good thing this was the last dish, because I was getting extremely full at this stage!
Dessert
Matcha crème brûlée
with blueberry
compôte
The finale was a green tea
crème brûlée,
which is French for "burnt cream". The custard is prepared ahead of time, then topped with sugar, and torched just before serving. The sugar melts and hardens, resulting in a layer of caramel that shatters, giving way to the creamy custard underneath. The last time I had
crème brûlée
was at the Trustee with Lucas, and it had been chilled all the way through. However, Marumo's was freshly torched, so the top was hot and the bottom still cold. Because of the matcha, the custard had a pleasant, slightly grainy texture to it and the green tea mellowed the sweetness of it.
Sometimes, people ask me why I only do a couple of food reviews a month, when some food bloggers do 3 or 4 reviews weekly. One could put it down to my abysmal time management skills and inability to finish things that I start. As true as that may be, it's mainly because I won't blog about a place unless I really, really like it. Nobody wants to hear about a mediocre steak, average coffee or an okay tapas joint. They want to know where the good food is, the places worth trekking to or forking out a little extra money for. The hidden gems.
I can safely say that Marumo is one of them.