The Tuck Shop
178 Newcastle Street, Perth
9227 1659
Figure 1: Homey
Everyone's been raving about the Tuck Shop recently, and it's had a disproportionate amount of foodblogger reviews (over 20) for the short time it's been open, so I came to see what all the fuss was about. I am delighted to report that the rumours are true. This place is a perfect example of simple things, done well. It doesn't serve anything mind-blowingly different - there's some nice pies, your standard selection of little cakes and slices, espresso coffee, and familiar things like mushrooms or smoked salmon on toast. But what sets the Tuck Shop apart is attention to detail: presentation, good customer service and simple, fresh flavours. It was a place that I came away from, thinking
this is the kind of place I'd like to open one day.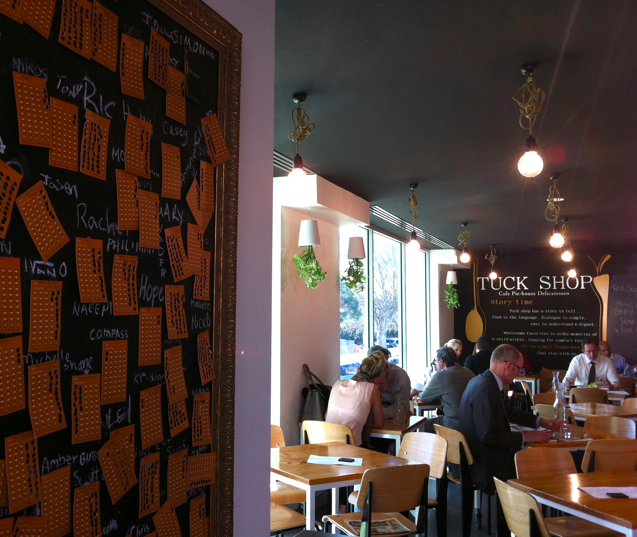 Figure 2: Recess

There's literally nothing on either side of the Tuck Shop. You can't even see it from the main junction. Yet it still manages to pull a lot of regulars (they have a board with a bunch of loyalty cards stuck on, with the names chalked next to them). I did find it a bit amusing to see a room full of smartly dressed businessmen trying to look as professional and dignified as possible while sitting in primary school-style wooden chairs, sipping milkshakes. On the eastern wall is a long bookshelf lined with cookbooks, which you're allowed to take down and read while you're having your meal. I grabbed a copy of
Barista Bible
while Aaron the health-conscious Crossfit champion took down one about salads and for the next 10 minutes, shamelessly took photos of all the recipes he liked.


Figure 3: Asparagus and lemon risotto salad


Figure 4: Almost everything everything came topped with an egg!

Every day, the Tuck Shop prints a new menu for the café with the date on the top. The only other place I've been to that does that is Rockpool, so things were looking pretty promising already. The menu was a page long, and full of all the right kinds of words like "lemon ricotta" and "slow cooked lamb" and "hummus" and "vanilla marscapone". I was pleasantly surprised at the wide range of the dishes they had on offer for such an unpretentious café. It took us a while to decide because everything looked so good - I think the waitress came round three times to take our order. Aaron did the honours:
"Scuse me - yes - we're ready. She'll have the moroccan meatballs, and I'm getting the ragu pie, the hand-cut chips and the pork belly."
"No problem! Right, so I'll get you guys the meatballs, the pie, the... wait. Are you gonna eat all those three by yourself?"
"Yeah."
"Seriously?"
"Yeah."
"... but no, seriously?"
Figure 5: Christmas colours?
Figure 6: Crunchy golden frites with house aioli
All of our food came together, but I instinctively dived into Aaron's hand cut chips with aioli ($7.5) first. The chips were cooked to perfection, everything that good frites should be: crisp and crunchy, not at all oily, with enough fluffy potato inside to make them satisfying. Get them.
I only stole a bite of the pork belly, chorizo, potatoes and fried egg ($18.5) but it was enough to make me want to order it next time I visit the Tuck Shop. That pork belly was somethin' else - so rich, crispy and succulent, I could have sworn it was deep fried. Definitely not something you'd want to have for breakfast, but rather for lunch. Followed by a ferocious work out at the gym.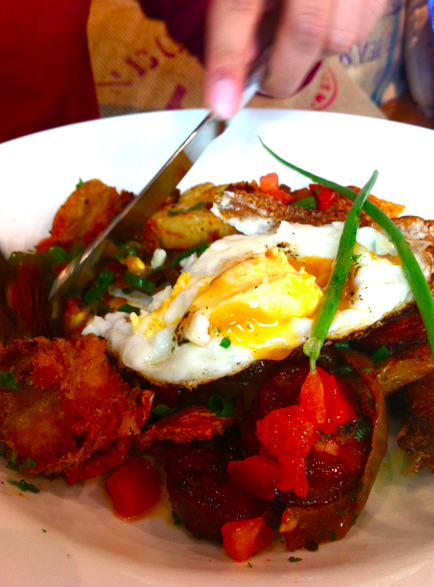 Figure 7: Tuck in!
Aaron's final victim was a beef ragu pie ($12 dine-in), which came served in a pool of this gorgeous caramel-coloured gravy. Generally, I hate pies, and find them a total waste of a meal. But this one was lovely - fairly chunky and rich in flavour, and just moist enough for the amount of gravy it came with.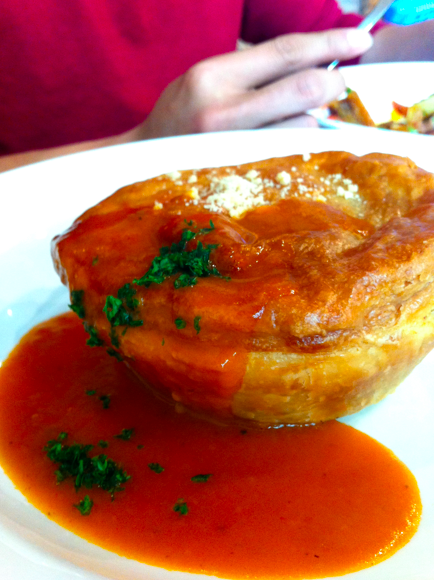 Figure 8: A pie fit for a foodie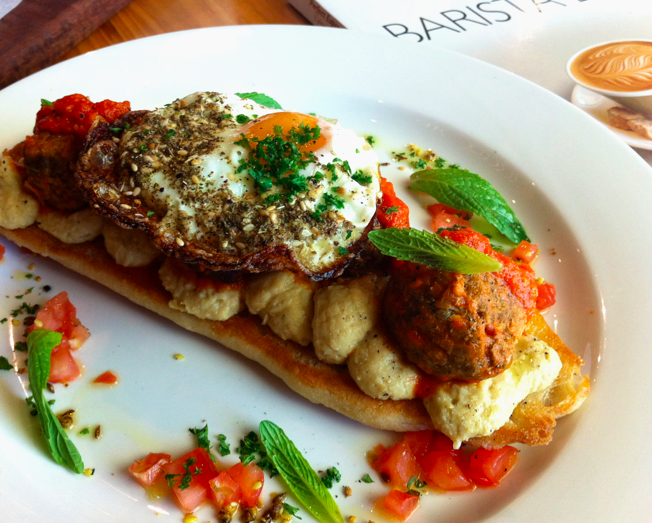 Figure 9: Vibrant colours

I finally rounded onto my moroccan meatballs with flatbread, hummus, tomato and za'atar fried egg ($17.5). Good points: the lightly spiced meatballs, gorgeous presentation and the fabulously crispy egg. The flatbread however was a little stiff and hard. I'd be willing to overlook that though, especially because of the lovely spices on top. Za'atar is a beautiful Middle Eastern spice mixture usually containing thyme, sesame seeds, marjoram, oregano, sumac (a crimson-coloured lemony spice) and seasalt. I'd never had it before, but it reminded me of dukka, which I adore.
Figure 10: Hungry?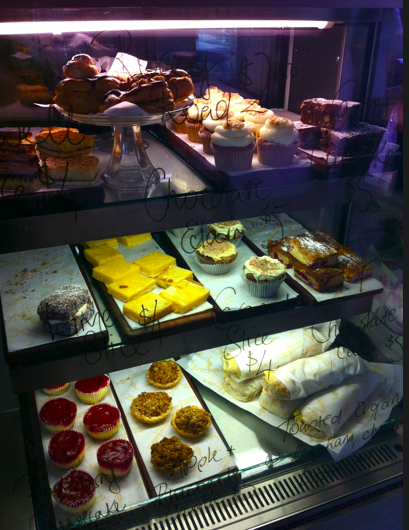 Figure 11:
Must... have... carrot... CUPCAKE.
I was very very close to ordering one of the cakes from their selection, but was way too full, so I had a nicely done cappuccino ($4.5) instead. I left in a very good mood indeed. A leisurely late lunch on a Tuesday afternoon, with nothing planned for the rest of the day except to enjoy my hard-earned university break and sleep off my food coma.