The Heritage Bar & Brasserie
131 St George's Terrace
Perth 6000
(08) 9226 5596
www.theheritageperth.com.au
Figure 1: New kid on the block
For such a long time, my learned friend Benjamin and I had made several attempts at organising a food-date, to no avail. We had both just been terribly occupied - he'd been busy getting VHD's (very high distinctions) and I'd been busy going off the rails in every sense of the word (just ask my insurance company). Finally, on a cold and crisp Wednesday morning, we committed to 8am at The Heritage for breakfast. It's right next door to The Trustee on St George's Terrace, and underneath it is the adjoining cocktail bar called Bobèche, named after a French clown of the 1800s. Naturally.
Figure 2:
Stylishly European

The Heritage is a European-style brasserie that opened in April, in one of the beautiful sandstone buildings at the foot of the new BHP tower (the really ugly skyscraper where you can tell the engineers made a boo-boo). The restaurant is grand in every sense of the word: high ceilings, polished marble floor, chandeliers, black and white furniture and white tablecloths. It kind of felt like being on the set of the Titanic.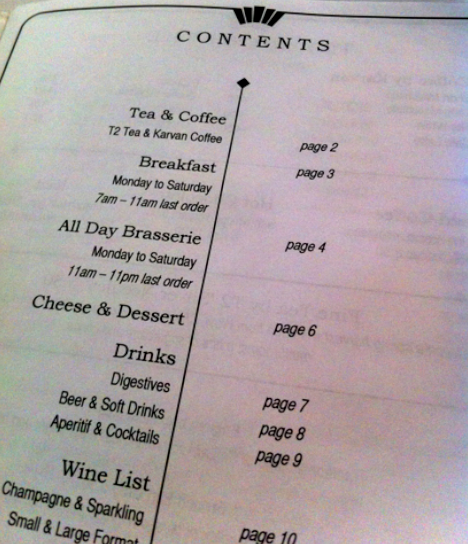 Figure 3: Extensive menu
The Heritage's food is described as 'brasserie classics'. But I realised when I started writing this post that I don't actually know what a brasserie is. The word itself is actually French for 'brewery', as places that produced their own beer and served food were the humble beginnings of brasseries as they are in their modern form today. Brasseries are upmarket, ornate but relaxed French restaurants that always offer professional service and are open every day of the week. I had a bit of a laugh when I saw the menu had a contents page, but there's actually reason for that - brasseries are typically open all day and serve breakfast, lunch, dinner and supper as well as a wide range of alcoholic beverages, so inevitably, the menu would be much longer than normal.
Brasseries are not to be confused with bistros, which are small, fairly casual and typically family-owned French restaurants, which serve traditional, unsophisticated food and are similar to the Italian trattoria.
Figure 4: Long macchiato ($4.9) and latte ($4.5)
As soon as we were seated, I lunged for the menu and flicked straight to the coffees page - (I was trundling along on 3 hours sleep). I was so desperate for a caffeine hit that I ordered a SLMXH (soy long macchiato extra hot), topped up, which I hadn't had for about 6 months because my doctor told me to stop drinking them. True story.
When the coffees came out, my coffee appeared similar to Ben's in all aspects but the colour. It looked like someone had maxed out the saturation button, because my long mac was a gorgeous, deep toffee colour. And after my first sip... I felt like my bones were humming. My long macs to me are like Ryan Gosling to Rachel McAdams in The Notebook - as much as you try to convince yourself you're happy with someone else, in the end, you'll always come back to your first love!
Figure 5:
Chocolate croissant
With our coffees, me and Ben split a freshly baked pain-au-chocolat ($4.5) which came served with a little fresh strawberry sliced in half, and dusted with icing sugar. I've always wondered why the never seems to be enough chocolate in a chocolate croissant. Usually it's two measly little pieces of chocolate the size of a small pencil, laid parallel to each other, wrapped up in the bottom of the pastry. But nevertheless, a flaky, delicious chocolate croissant it was. And any excuse is a good enough excuse to eat chocolate in the morning.
Figure 7: Photography by Tomasi J


For our actual breakfast meal, we chose the same dish: the Heritage muesli with berries, apples, pear and yoghurt ($10). I have no idea why I ordered it. I usually have to order something for breakfast that has eggs in it, whether they're fried, boiled, poached, scrambled or in pancakes, or at least something hot. I had a good feeling about this one though.

We definitely chose well - it was a perfectly balanced breakfast meal. The muesli had just enough bite to it, was smooth and creamy and topped with a bit of clotted cream (I altruistically ate Ben's cream too) and the berry compote was fresh and nicely tart, not too sweet. There was just a small sprinkling of buttery crumbs on top which completed the dish. I can't believe I'm saying this about muesli, but it's probably one of the better breakfast dishes I've had so far this year. And all for just $10.
Figure 8: Sparkling or still?
We got the bill promptly after finishing in order to get to 10am Property on time, and Ben gave me a lift to uni in his Monster Truck. I left the Heritage with a full belly, an emerging headache (shouldn't have finished that coffee) and a curiosity to check out their dinner menu some time, when I can afford it. So hopefully this place is still open in 2020.