Louis Baxter's
Shop 2, 50 Subiaco Square, Subiaco 6008
(08) 9380 4203
Figure 1:
City chic
As Desiree's month in Perth was slipping away, and it would be 12 months before she was back home, we decided to check out Louis Baxter's (more commonly known as The-Eamon-Sullivan-Café). We were so keen that we had already chosen our menu items a day in advance on the website. When we sat down at our table, I kept yabbering on and flapping my arms around, toppling over my travel flask of green tea so that it looked like I peed on the floor.
Figure 2: Louis
But the reason I was so psyched about this place is that Eamon has proved he actually knows his stuff when it comes to food. It started in high school, when he picked up home economics as a way of swiping an extra meal on school days that included four hours of swimming training. Turns out he performed well in the swimming pool and the kitchen (dream husband), and was contemplating becoming a chef if the swimming thing didn't work out.

But as we all know, the swimming thing did work out, and Eamon was soon appearing on everything from Sunrise to Gillette advertisements to The 7pm Project. In 2009, Eamon won the title of Celebrity Masterchef, knocking out supermodel Rachel Finch in the Invention Test with his amazingly complex Chocolate Delice. It was on the show that he met one of the producers, Laki Baker, who shared a love of food and pets with Eamon. In 2011, they opened Louis Baxter's as a tribute to their French bulldogs, who are so goddamn cute I could just die.
Their café is found at the centre of Subiaco, in the train station square. The interior design is, for want of a better word, 'ave'. Nice enough, but nothing special. I feel like on many levels, Louis Baxter's have played it safe, making everything a little bit too simple than it needs to be. The space is fairly small but has been utilised well. On the wall is a striking mural by a local Perth artist, and there's an industrial feel to the place, given by the exposed piping, timber furniture and enormous lightbulbs hanging haphazardly from the ceiling.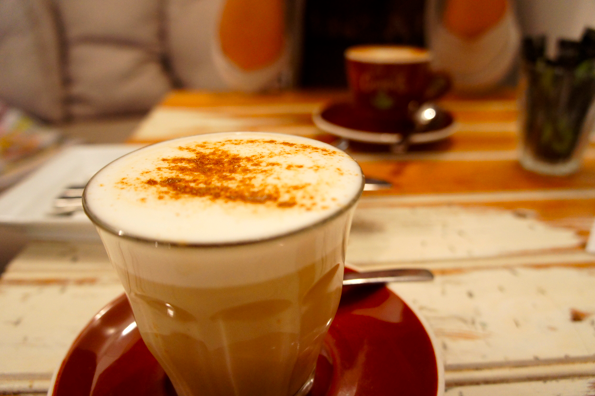 Figure 4: Best chai lattes in town
Whilst reading up for this post, I noticed a lot of amusing comments about the barista being a bit of a tosser who reprimands people for ordering short macs topped up (technically they're piccolo lattés, apparently). But he was a perfect gentleman to me and Desiree, plus he made us some freaking good coffees. A chai latté ($4.3) for Desiree, which was probably one of the smoothest chai lattés I've ever tasted. It was like drinking sweet, spiced velvet. I'm getting one of these next time I come here.


The website raves on about their Campos coffee beans, but because I don't know enough about coffee, I couldn't really tell the difference. My soy flat white ($4.5) was excellent, anyway. Not a trace of bitterness was to be found in my coffee, and the crema was a beautiful caramel colour.
Figure 5: Come at me crema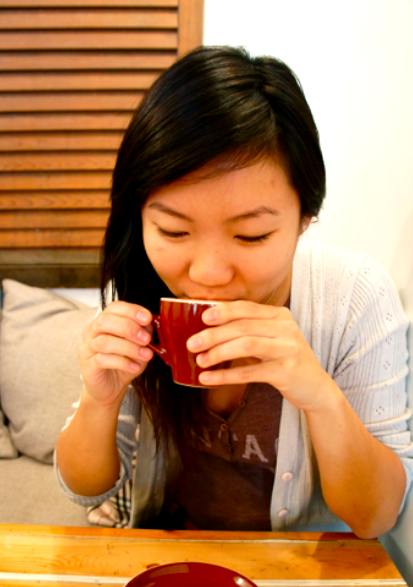 Figure 6:
Fuelling up on caffeine
Louis Baxter's sports a very basic menu, and I guess I was expecting something more, coming from a seasoned foodie like Eamon. Urbanspooners have commented that there is "nothing particularly exciting" at Louis Baxter's - I don't completely agree with them, but I do feel like a café that's featured on Today Tonight as one of the best cafés in Western Australia should offer something with a bit more oomph. There's toast, porridge, a breakfast trifle, a bacon & egg roll, slow poached egg, spanish eggs, and eggs benedict. That's it. Although, I'll give points for having everything sourced locally: New Norcia bread, Swan Valley eggs, Mount Barker chicken.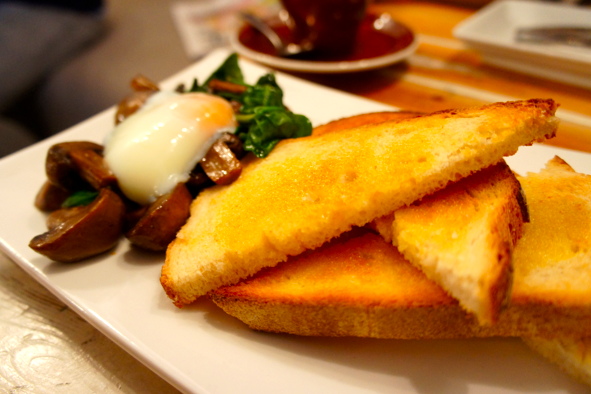 Figure 7:
They butter your toast for you! Naw.
Upon
Great About Perth's
recommendation, I ordered the
60 min Slow-Poached Egg
($14) with New Norcia toast, roasted mushrooms and spinach. And because I'm annoying, I asked them how they cooked the egg: they sous-vide them in a hot water bath at 63
°
C, tap a hole in the shell and the perfectly cooked, silky egg flows out. I'd never seen an egg cooked like that before - it was the same consistency all the way through, from the white to the yolk, almost like the filling of a custard tart. Fascinating stuff.
But I found this dish very plain. There was no herbs, no spices, or chutney, or sauce, nada. If it weren't for the fancy slow poached egg, it would just be a plate of fried mushrooms, spinach, and bread that I could make myself at home for a lot less than $14. Maybe I'll try the trifle next time instead.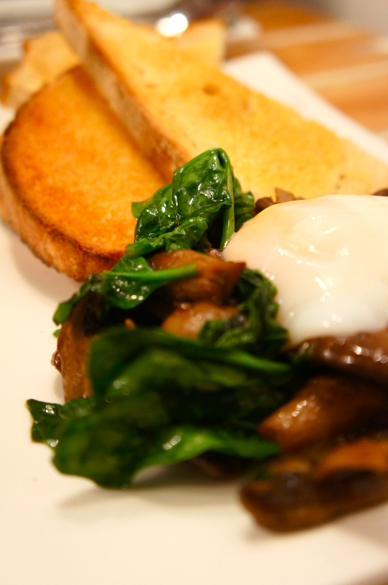 Figure 8: Glossy slow-poached egg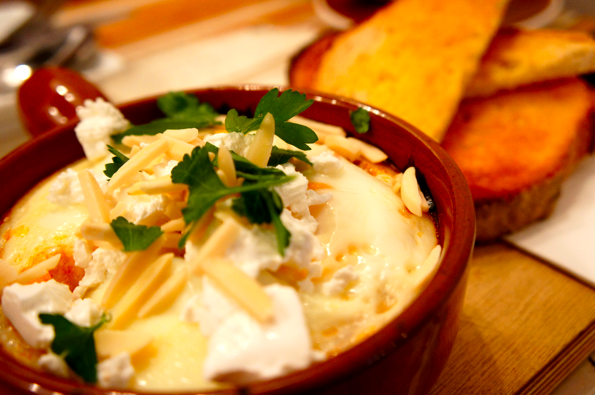 Figure 9: Good shot!
Desiree had the Spanish Eggs ($15), which made me rather jealous. It came in a little red oven dish, topped with slivers of almond and fresh coriander, served with a side of New Norcia sourdough toast. A fairly rich breakfast dish, with just the right amount of chorizo. When you smeared the eggs on the toast with a bit of feta, it all melted together and became a mouthful of spicy, gooey goodness.
Figure 10: Gooooood morning!
Thanks Desiree for letting me steal all of your photos from your amazeballs camera - and also for being an inspiring person to me. Seeing how much you have grown on exchange makes me really excited for my own French exchange coming up! I'm so glad that we've stayed friends all this time, and it was nice to catch up with you and see how happy you are now, doing your own thing and following your heart. Can't wait to go on more food adventures with you again when you come back again!
Figure 11: In my element