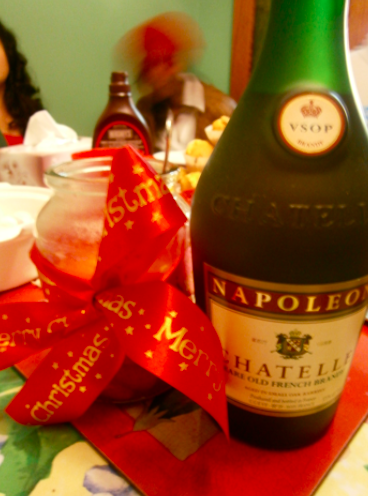 Figure 1: Brandied strawberries
I love Christmas. Every year, I'm that irritating, incessantly cheerful pain in the ass that insists on putting up a tree (sometimes two: a big one for the living room, and a little one for the dining table of course), a wreath, mistletoe, tinsel, strings of christmas cards, putting the Christmas CD on repeat, and fashioning a mini Santa-hat for my dog out of scraps of fabric. And then taking lots of photos of him.
So it kills me that I've never had a White Christmas, like the ones you see in the movies where they look out the window and the world is wearing a beautiful white blanket. I've celebrated every single Christmas in Australia, bar a couple in Malaysia with family, so I've never even had a Christmas under 35
°
C. So last holidays I decided to throw a Christmas in July party, which I definitely want to do again next year. There's just something about the combination of cold weather, comfort food, winter clothes and good company that makes you feel like you're being hugged.
Figure 3: And all the trimmings


Figure 4: Christmas feast
Everyone brought something along: Mingi was on booze duty, Mali brought some roast chicken, I did up some honey soy chicken wings and a salad, and for some reason, Tung's mum just happened to have access to a slab of roast pork the size of a small microwave on the day, so he brought that. We finished everything, including Von's vegies and all of Janelle's fried asian goodies.
Pear, walnut and fetta salad
1 firm pear (the crispier the better)
1 cup walnuts, chopped
1 cup fetta cheese, diced
Baby rocket
1/2 a lemon plus extra for pears
1/4 cup olive oil
Salt and pepper, to taste
1. Slice the pear fairly thinly and toss in a bit of lemon juice to stop them from browning.
2. Top rocket with pear, walnuts and fetta.
3. To prepare dressing, combine oil, lemon juice, salt and pepper in a jam jar and shake it like a polaroid picture.
4. Toss salad with dressing and serve immediately.
Figure 9: Straight to the thighs, baby
In terms of volume, I think we had the same amount of desserts to choose from as we did mains. It was a sugar smorgasboard: Jeed's delicious ice cream sandwiches, brandied strawberries and vanilla ice cream, marshmallows and melted milk chocolate, Ainsleigh made a cheesecake, Ann's macadamia cupcakes, and of course, Derek's amazing trifle - of which the leftovers became my sole reason for weight gain over the next week. I think most of the desserts had alcohol in them - but that's what I love about Christmas. Not only is spiking allowed, it's tradition!

Figure 11: Drool


1 tin condensed milk (395ml)
500ml whipping cream
2 packets Arnott's Malt 'O' Milk biscuits
3 packets chocolate of your choice
1 packet chewy lollies
1. Chop chocolates and lollies into small pieces.
2. Whip cream in electronic mixing bowl until peaks start to form. Fold in condensed milk, lollies and chocolate.
3. Cover two baking trays with cling wrap and place biscuits bottom-side-up.
4. Place cream mixture evenly on top of biscuits, and top with another biscuit.
5. Place in freezer at least 4-5 hours or overnight.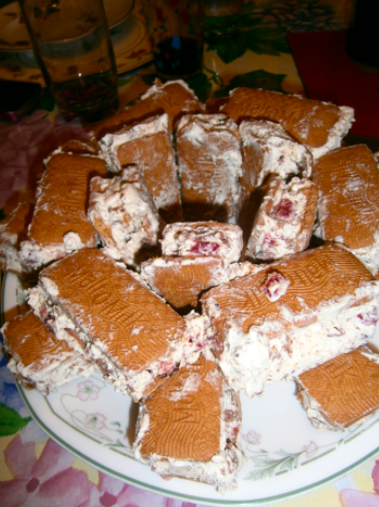 Figure 12: Icy creamy goodness!