I made these for Desiree, one of my good friends who's been in the US on exchange for the past year. We have one of those rare friendships that go unaffected by time and distance. Even though I hadn't seen her in so long, it was like she had never been away. On Saturday morning, she came over for breakfast and to catch up, and took these photos for me with her amazeballs camera. This is one of Nigella Lawson's recipes, and it's absolutely fool proof! I reckon you should give it a crack. And I don't mean to brag... but these were really good.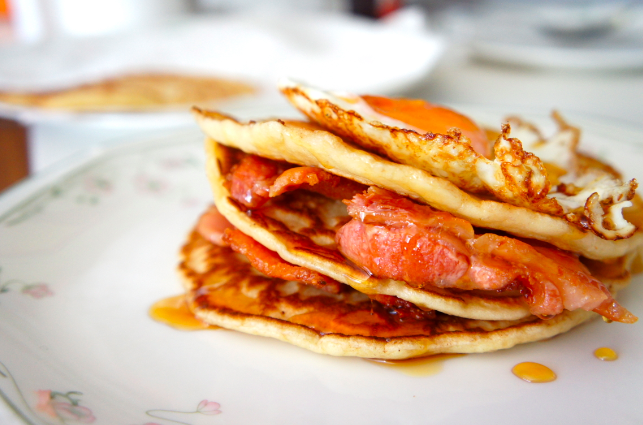 Grizzly Bear Pancakes
(makes 5 triple-pancake stacks)
2 tbsp unsalted butter

1 1/2 cups plain flour

2 tsp baking powder

1 pinch salt

1 1/3 cups full cream milk

10 slices of bacon

5 eggs

Vegetable oil, for frying bacon

Butter, for frying pancakes

Maple syrup (or golden syrup)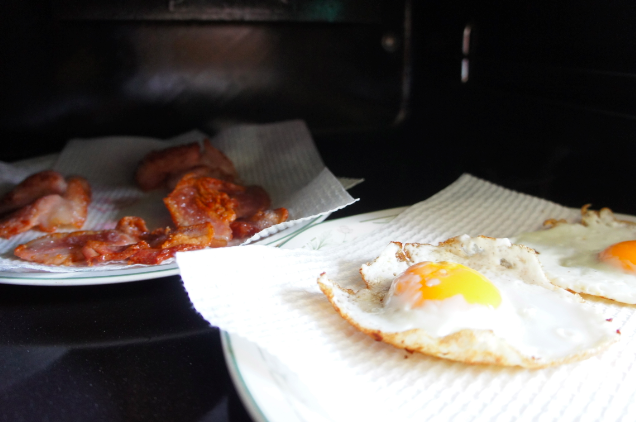 1. Melt butter in microwave, and set aside to cool slightly while preparing the pancakes.
2. Sift the flour and baking powder into a mixing bowl. Add the sugar and salt, stir.
3. In a separate bowl, beat the eggs and milk together, add the slightly cooled butter, and pour the wet ingredients into the flour whilst whisking. You should have a really smooth consistency.
4. Fry the bacon until crisp and drain on paper towels (keep them under the grill if you can). Fry the eggs, sunny side up.
5. Smear pan with a small knob of butter and fry pancakes in 1/4 cup measures on a low/medium heat. When bubbles start appearing on the surface, flip them and then cook for another few minutes. This recipe should give you 15 pancakes.
6. Layer pancakes with bacon in stacks of three, and top with sunny-side up egg. Drizzle with maple syrup and serve immediately with mimosas.